September 15, 2010
Takeda, Arthritis Foundation launch gout awareness effort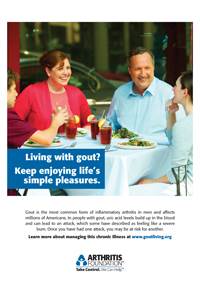 Takeda Pharmaceuticals North America and the Arthritis Foundation launched a gout awareness campaign featuring TV and radio PSAs airing nationally, along with a website, www.goutliving.org.
It's the first-ever high-profile education effort around the disease, said Takeda and the Arthritis Foundation, and it aims to communicate that " living with the disease "doesn't have to mean missing out on life's special moments."
The website includes an "attack tracker," points for discussion with physicians, and a glossary of medical terms.
Takeda's Uloric won FDA approval for chronic management of hyperuricemia in patients with gout last year, becoming the first new gout drug to win approval in four decades.
The PSAs were produced by M Street Creative. PR is being handled by Ketchum.
Coincidentally, the campaign launched a day before Savient's gout drug Krystexxa (pegloticase) won FDA approval as a second-line treatment. Krystexxa has a different mechanism of action than xanthine oxidase inhibitors like Uloric, making it a potentially valuable treatment in patients for whom conventional treatments like the Takeda drug don't work. However, Krystexxa also carries a black box warning of possible severe allergic reaction experienced by a quarter of all patients in clinical trials.
Scroll down to see the next article