May 14, 2008
Texas Vioxx verdict overturned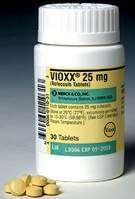 A Texas appeals court has overturned a multimillion-dollar verdict involving Merck's withdrawn painkiller Vioxx the Wall Street Journal reports.
The verdict was overturned on grounds that there was insufficient evidence to link use of the drug to a fatal heart attack suffered by the spouse of plaintiff Felicia Garza of Rio Grande City, TX.
"The appellate court recognized that there was insufficient evidence supporting the jury's verdict and, accordingly, rendered a final judgment in the case in favor of Merck," said Ted Mayer, outside counsel for Merck, in a statement.

Garza sued Merck claiming that her husband's 2001 heart attack was caused by Vioxx. In April 2006, a jury found Merck liable and awarded $32 million in compensatory and punitive damages. Texas law caps such awards and the amount was later reduced to $7.75 million.
Vioxx was voluntarily pulled from the market in 2004 after studies found a link between the drug and an increased risk of heart attacks and strokes.
Merck agreed in November to pay $4.85 billion to settle about 27,000 Vioxx cases, with individual payouts to be determined at a later date. The Garza case was excluded from the settlement.

Garza v. Merck was the sixth overall Vioxx case to go to trial after the company voluntarily pulled the drug from the market. Juries have decided in favor of Merck 12 times and in plaintiffs' favor five times.

The Garza decision reverses one of the five plaintiffs' verdicts and results in a decision in Merck's favor. One of the previous Merck verdicts was set aside by the court and has not been retried. Another Merck verdict was set aside and retried, leading to one of the plaintiff verdicts. There have been two unresolved mistrials.
Scroll down to see the next article