November 27, 2012
Transcept, Purdue plan DTC effort to revive sleep-drug launch
Facing lower-than-expected demand for sleep drug Intermezzo, Purdue Pharma and Transcept Pharmaceuticals are broadening the commercial strategy to include DTC and a larger selling force.
Intermezzo is a sublingual version of Sanofi's blockbuster insomnia pill Ambien (zolpidem). But the new formulation, approved in November 2011 and introduced earlier this year, has had a lethargic launch. Hence, the firms are rolling out a $29-million DTC ad campaign and, for the first time, tapping into Purdue's analgesics sales force of 525 reps to call on PCPs and retail pharmacies. Another 90 contract reps will detail specialists.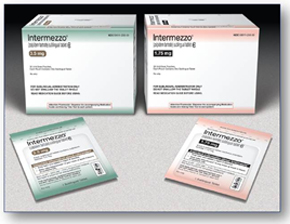 The prescription insomnia category has changed a lot since the days when Sanofi's Ambien CR, Sepracor's Lunesta, and Takeda's Rozerem were duking it out on the airwaves. One thing Transcept and Purdue don't have to worry about, management said, is going up against multiple branded campaigns—at least not for another 12 months or so, which is when Merck expects to hear from the FDA on its novel sleep drug suvorexant.
"There are a few ads for Lunesta out there, but the market has been fairly quiet," said Transcept president/CEO Glenn Oclassen on a conference call this morning. "So we get to take fullest possible advantage of that and believe this level of expenditure will be sufficient to get the impact being sought."
Yet Ambien's generic availability and market-leading status makes for a tough competitive set. The six-month DTC campaign will be designed to convey Intermezzo's sales message—the only Rx sleep aid shown safe and effective for middle-of-the-night awakening—across a range of channels: print and web this year, with TV to follow in 2013.
Chicago-based indie ad firm AbelsonTaylor will handle the campaign, with media-buying assistance from indie agency Kelly Scott Madison.
Whether the renewed push can jump-start sales will depend not only on increasing consumer awareness, but also educating physicians that a middle-of-the-night sleep aid could be more suitable for their patients than generic Ambien.
On the call, analysts expressed skepticism, with one saying Intermezzo has essentially the same package insert (PI) as generic Ambien. "We're anywhere from a third to a sixth of the dose [of zolpidem]," the CEO countered, and "We have gender-specific dosing," along with sublingual delivery, which is designed to create rapid absorption, rapid enough that the PI advises patients to be lying in bed when they take it.
Moreover, said Oclassen, physicians are consumers, too, and some of them will no doubt see the on-air, online and print ads that are on the way, along with more details from the larger sales team. The TV spot and related collateral are expected to be available for view in December on microsite myintermezzo.com.
The new marketing push is "almost a re-launch of the product," said Oclassen on the conference call. "The overall impact is expected to be substantially more positive than it has been."
Transcept's third-quarter Intermezzo royalty income came in $600,000 light, observed Leerink Swann analyst Jason Gerberry. Although total scripts in the quarter were 1.7 times greater than second-quarter levels, royalty income was down 60% (from $500,000 to $200,000), wrote Gerberry, who has since lowered his forecast for royalty revenues as a result.
Scroll down to see the next article