June 11, 2013
Twitter-Everyday Health deal means targeted Tweets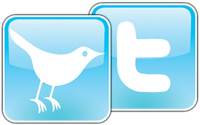 Should you, at the height of this fall's ragweed season in your neck of the woods, Tweet about how miserable your allergies are making you this fall, chances are a sponsored Tweet from Everyday Health will pop up in your feed, directing you to allergy information on their site.
Twitter is partnering with the health media firm on HealthBeat, through which sponsored posts (promoted Tweets, in Twitter argot) touting contextually relevant content will be routed to Twitter users, triggered by keyword, location or other algorithmic tripwires. Those promoted Tweets will bear breaking health news, seasonal issues like influenza and allergy info, and lifestyle tips.
"Twitter has become this global town square," says Everyday Health's Jen Perciballi, "and this allows us to have conversations in real time."
That means Everyday Health could target users Tweeting about coughing in South Central LA during an outbreak of Whooping Cough, as happened there in 2011, with Tweets linking to information on the condition.
"It has the capacity to be the first line of defense for public health," said Perciballi. "It also provides marketers with an opportunity to scale up their targeted messaging," she added. The platform can be customized to health topics or regions through promoted Tweets, sponsored Twitter search, video Tweets, branded communities, blogs, data, infographics, live Q&As and display ads on Everyday Health.
It's Twitter's only such partnership with a health media company.
"The combination of Twitter's data and reach with Everyday Health's depth of original content is a huge advancement in public health," said Everyday Health's Dr. Sanjay Gupta in a statement. "Never before has health and wellness editorial been combined with the actual insights and data from the community at large, making this an invaluable resource for consumers and health professionals."
Scroll down to see the next article