February 02, 2010
UK journal ad spins weight gain side effect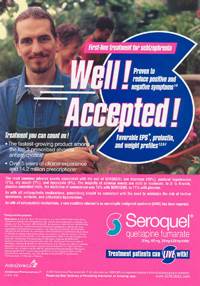 UK regulators vowed to investigate a medical journal ad for AstraZeneca's Seroquel that allegedly minimized weight gain data, a common side effect associated with atypical anti-psychotic drugs.
The ad ran in the British Journal of Psychiatry in 2004, and was the topic of a BBC report featuring an interview with John Blenkinsopp, AstraZeneca's former UK medical manager. According to Blenkinsopp, the ad represents the only instance in the UK of AstraZeneca using weight gain to differentiate Seroquel from its competitors, a strategy used widely in the US.
In the BBC interview, Blenkinsopp said he "finds it interesting" that safety claims with respect to weight gain differed from the US to the UK, "despite being based on the same evidence." The Prescription Medicines Code of Practice Authority, the drug marketing regulatory body in the UK, told the BBC that it would examine the ad.
The journal ad in the UK did note that weight gain is a common side effect, but stated that Seroquel had "a favorable weight profile across the full dose range" -- a claim Blenkinsopp disputed.
In the US, AstraZeneca settled two federal investigations and two whistle-blower lawsuits related to Seroquel marketing last October, paying out $520 million. The company faces over 10,000 civil cases in connection with the drug, according to a
Financial Times
report.
Scroll down to see the next article