February 18, 2010
US Oncology picks up Cure magazine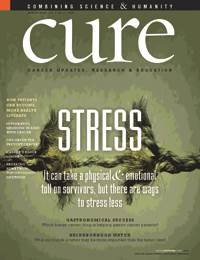 US Oncology announced the purchase of Cure Media Group today, a move signaling an increased focus on cancer patients. US Oncology is a practice management and drug distribution firm.

Cure Media Group and its flagship magazine title, Cure, were previously owned by Medical Media Holdings, and has a print circulation of around 325,000. Around 176,000 of those issues go out to home subscribers, said Alexandra Hurd, PR and marketing specialist at Cure Media Group, with the rest going to oncology offices, infusion rooms, non-profits, hospitals and academic groups.

Editorial staff at Cure, including publisher Susan McClure and editor-at-large Kathy LaTour, will remain in place. Financial terms of the deal were not disclosed.

Circulation numbers will go up under US Oncology's stewardship, as the free magazine goes out to all US Oncology-affiliated practices, and over 720,000 cancer patients treated within that network, according to Hurd. "We had been looking for ways to increase distribution, especially to newly diagnosed patients and patients just entering [cancer] treatments," she said. "It was the right time and the right place."

US Oncology offers full-service practice management, as well as à la carte offerings to oncology practices, including prescription delivery and distribution, billing, payment and patient services. Cure magazine will go out to the company's affiliated physicians operating at 493 locations, which includes 98 radiation oncology facilities in 39 states, according to a US Oncology release.

Hurd says the majority of Cure's advertisers are pharmaceutical companies, with a smattering of ads from insurance providers and clinics. Cure magazine is located on the web at www.curetoday.com.


Scroll down to see the next article