May 08, 2008
VeriChip to launch DTC campaign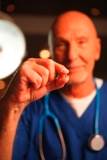 The VeriChip Corporation, manufacturers of radio-frequency identification devices (RFID) for patients, launched its first DTC campaign in South Florida.
In conjunction with the campaign, which features print and TV ads, VeriChip renamed its patient identification system Health Link, and launched a new website. Health Link was designed to provide vital medical and emergency contact information to doctors and nurses. 

"Given our successful infrastructure build-out in South Florida, we are now ready to escalate our marketing efforts to increase consumer awareness and adoption through the first DTC launch of our product," said Scott Silverman, chairman and CEO, in a statement.
VeriChip hired Samuel Ambros to lead the marketing effort as vice president of business development. The company announced a partnership with HearUSA and its HEARx centers to provide customers with easy access to the Health Link system. HEARx has eight locations throughout the Palm Beach market.
The Health Link RFID microchip is injected subcutaneously in the rear upper portion of the right arm. The microchip stores a 16-digit personal identification number. Emergency medical personnel can use the Health Link scanner to retrieve the number, and access to the patient's personal health record.
Scroll down to see the next article