January 17, 2012
Victoza effort featuring Southern cuisine queen Deen draws flak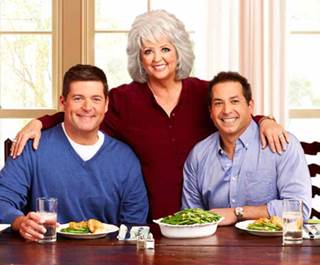 Novo Nordisk is courting controversy with a Victoza-branded type 2 diabetes education campaign featuring Southern-fried celebrity chef Paula Deen and her sons.
As part of the company's Diabetes in a New Light campaign, Deen made the media rounds with the revelation that she had been diagnosed with the disease three years ago,
telling the Today Show's Al Roker
: "I'm here today to let the world know that this is not a death sentence."
Deen and her two adult sons, Bobby and Jamie Deen, feature in the campaign site,
DiabetesinaNewLight.com
, fans can download recipes and sign up for emails with exclusive monthly recipes and tips on managing their diabetes. The Deens will also feature in a national ad campaign that launches January 25 with print. The aim is to help newly-diagnosed sufferers through the shock of sudden lifestyle changes with recognizable recipes, all vetted by the American Dietetic Association's Diabetes Care and Education Arm.
"When you're first diagnosed, you have to start exercising regularly and to change the way you eat," said a spokeswoman. "It's overwhelming -- it feels like you have to overhaul your entire life, and that can be counterproductive, and sometimes people don't address their diabetes as quickly as they should because there's so many changes that have to happen."
Content will be integrated into the brand's professional site, Victozapro.com, as well, and Deen's sons will tour several ADA expos over the next few months. The brothers blog about more healthy versions of Southern fare at
DeenBros.com
, and Bobby Deen has a new Cooking Channel show,
Not My Mama's Meals
, that debuted earlier this month.
Paula Deen has been criticized in the past for whipping up precisely the sort of heavy, fatty dishes that have made the South Ground Zero for America's diabetes epidemic. Rival celebuchef Anthony Bourdain, who had previously called her "the worst, most dangerous person in America,"
blasted
Deen's disclosure in an interview with the blog Eater, saying: "When your signature dish is hamburger in between a doughnut, and you've been cheerfully selling this stuff knowing all along that you've got Type 2 Diabetes... It's in bad taste if nothing else. How long has she known?"
"I said, 'I'm gonna keep this close to my chest for the time being, because I had to figure things out in my own head," Deen told Roker. "I had to give time to think about it, talk to my doctor … I wanted to bring something to the table when I came forward."
Deen conceded that her recipes aren't the most diabetes-friendly but stressed that other factors, including lifestyle, genetics, stress and age, may play a role and said she'd always urged moderation and counseled the newly-diagnosed to "get on a program that works for you. I'm amazed at the people out there that are aware that they're diabetic but they're not taking their medicine."
Novo approached Deen in April, not knowing she had been diagnosed with diabetes but scouting for TV foodies with some personal connection to the disease.
"When we met with her the first time, she said, 'How did you know I had diabetes,'" said the Novo spokeswoman, adding that Deen had been looking for a way to answer demand from fans for more diabetes-friendly recipes. The company anticipated some controversy, she said.
"We concluded that the benefit to patients outweighed the risks. She has such a loyal following and people love her food. The need for diabetes-friendly recipes is not being met. The ones that are out there are often not culturally-appropriate. The bulk of people with diabetes live in the South and like Southern cooking."
Scroll down to see the next article