March 28, 2016
Drugmakers move to counteract expiring patents with new respiratory drugs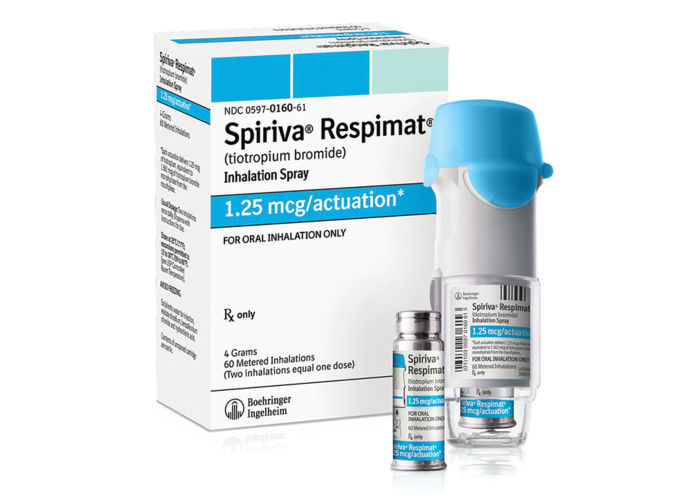 The FDA in September approved Boehringer Ingelheim's muscarinic antagonist Spiriva Respimat as a first-in-class asthma treatment.
Recently plagued by patent expirations and generic competition, the respiratory space has found new energy through innovative beyond-the-pill partnerships. Indeed, an enhanced understanding of disease drivers continues to breathe new life — pun unabashedly intended — into a sector on the cusp of rebound
Celebrated for a slew of prosperous assets to treat asthma, COPD, and allergies, the respiratory drug business has grown up to deal with patent expirations and other changing market dynamics. To stay afloat, companies are pursuing more convenient drug-delivery options and gravitating toward unmet medical needs and niche treatment areas. Symptom-driven care is falling out of fa­vor with lung-drug leaders increasingly interested in assigning optimal treatment approaches to patient conditions.
See also: Top 25 respiratory products, 2014-2015
"Helping the respiratory community better understand the underlying biology, patient phenotypes, and new drug combinations will offer step changes in clinical outcomes for patients," says Chris Blango, VP, U.S. medical affairs respiratory, at AstraZeneca.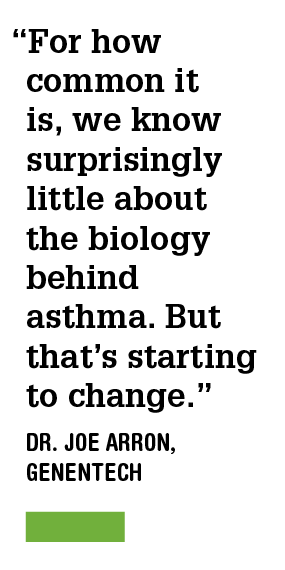 A host of factors, including an aging population, rising environmental pollution, and increasing diagnosis and drug treatment, will keep the asthma and COPD markets in the green. But for the most part, patients continue to use medicines and steroids that emerged 20 years ago.
GlaxoSmithKline shares the inhaled corticosteroid and long-acting bronchodilator space with Merck's Dulera and AstraZeneca's Symbicort and is bracing for generic competition to Advair. GSK's respiratory franchise accounts for 40% of the company's sales; Advair did its part by pulling in $8 billion annually at its peak.
While some analysts have questioned GSK's financial stability, SVP, primary care Deborah Waterhouse insists that "sales contributions from the medicines we've launched over the past three and a half years are now exceeding what we're losing on Advair." All eyes are on Advair's successors, the once-daily combos Breo and Anoro, to make headway in the most profitable asthma drug class.
Boehringer Ingelheim's muscarinic antagonist Spiriva Respimat (tiotropium bromide) was approved as a first-in-class asthma treatment. The asset will expand the firm's presence in the respiratory space, but is unlikely to draw as much revenue as it has within the COPD population.
On the other hand, experts contend that generic erosion is unlikely to be a factor for inhaled products. Providers and patients alike will be hesitant to embrace a new device, plus the pricing profile will not be attractive enough to prompt a switch.
While loyalty runs deep on the consumer side, inhalation therapies add challenges for developers. Respiratory leaders must contend with balancing drug and device.
"With inhalation therapies, the delivery device is as important as the drug being delivered," points out Matt Hartney, EVP, respiratory brands, Triple Threat Communications.
Corbus Pharmaceuticals CEO Yuval Cohen underlines the benefits of developing a pill for diseases like asthma and COPD, but says that the R&D is not there yet. "The handheld pump will be with us for a long time," he stresses.
PRECISION MEDICINE RISES
Precision therapies are belatedly making their way onto the respiratory scene as firms increasingly break free of the one-size-fits-all model for common conditions. In the U.S. alone, nearly 25 million people suffer from asthma.
"For how common it is, we know surprisingly little about the biology behind asthma," says Dr. Joe Arron, director of immunology discovery at Genentech. "But that's starting to change."
Pharma is increasingly aware that asthma presents in different forms, requiring the use of biomarkers to individualize drug targets. To that end, Genentech is taking a cue from its own oncology enterprise to pursue asthma and COPD genetic profiles. The company has entered into a license agreement for Amgen's Phase II-ready anti-ST2 antibody AMG 282.
See also: Corbus bets on cystic-fibrosis market with Resunab
Despite advances in asthma and COPD, unmet needs loom large particularly for patients at the severe end of the spectrum.
"The drugs are limited and can't always control symptoms," explains Beran Rose, VP of marketing and business development for Pulmonx, a firm developing diagnostic and therapeutic tools for severe COPD.
Market forces set the stage for the timely arrival of biologics, an area first explored by Genentech with its 2003 approval of Xolair (omalizumab). Arron believes the tide has turned with the development of IL5 and IL13 inhibitors, where multiple therapeutic candidates have shown enhanced efficacy in type 2-high or eosinophilic asthma. Genentech is conducting Phase III studies of lebrikizumab in severe asthma and Phase II studies in IPF, COPD, and severe atopic dermatitis.
Datamonitor Healthcare predicts that four biologics — GSK's Nucala, Teva's Cinquil, AstraZeneca's benralizumab, and lebrikizumab — will drive growth in the asthma market through 2024. Although prescription numbers will remain low due to a small target population, extreme price tags will translate into substantial revenue.
Keep reading for more on the pipeline for drugs to treat COPD and idiopathic pulmonary fibrosis as well as beyond-the-pill initiatives for respiratory drugs.