March 22, 2016
The truth about a doctor's day: know-it-all patients and no time for lunch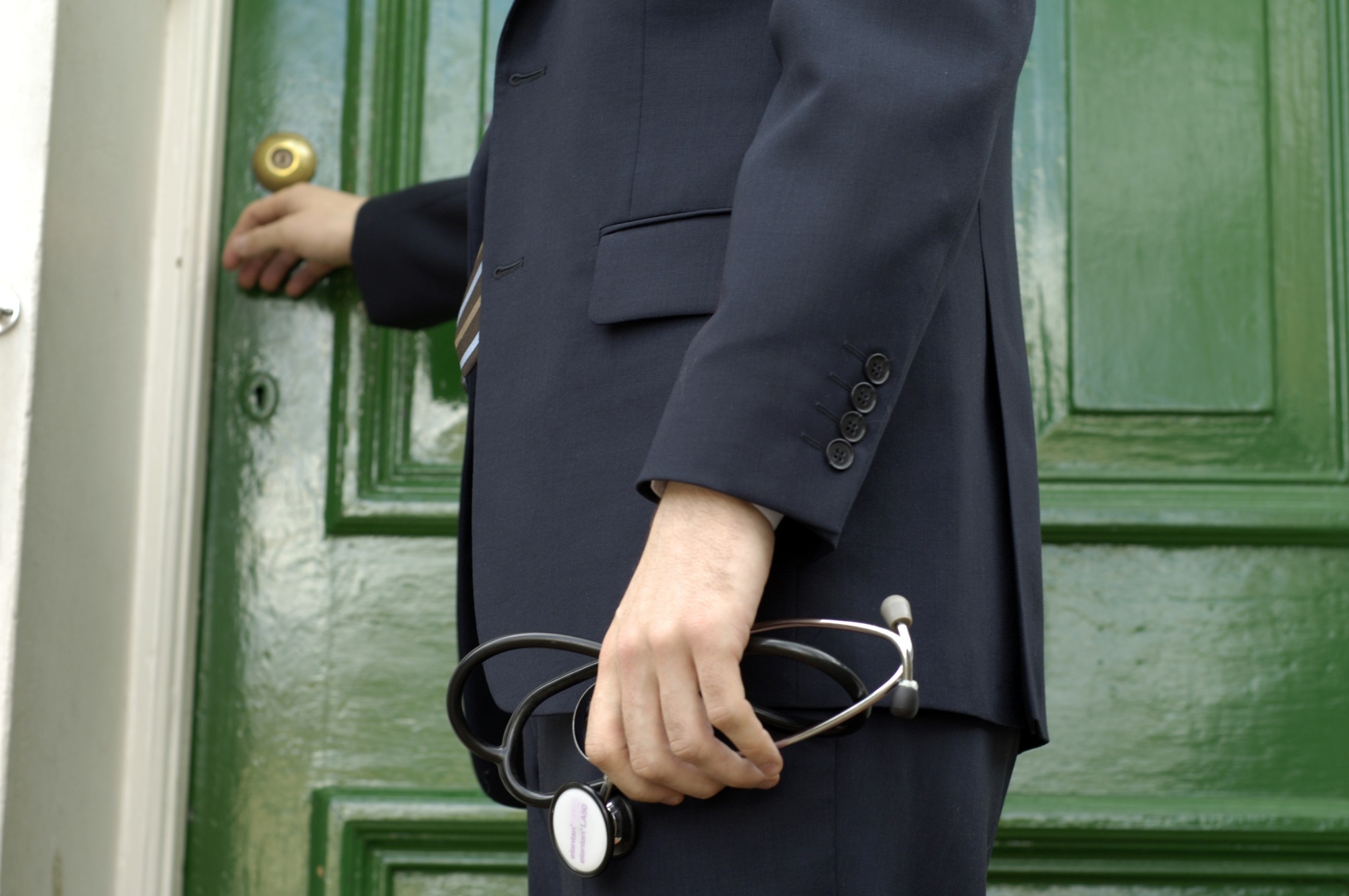 Science-fiction buffs often conjure up visions of medical care whereby the physical exam is supplanted by a scanner, face-to-face interaction occurs via screen, and the doctor-patient relationship gives way to a cyborg in a white coat.
Most people don't want to see the venerable physician replaced by a computer. Yet, some would say, the onslaught of medical information empowering consumers is making the above scenario seem more like inevitability than fantasy.
According to new research conducted by McCann Health, doctors see a big disadvantage to technology — it's often being used to second-guess human medical judgment. It's as if data from the web and from wearables has predetermined clinical decision-making, rendering the office visit a mere fait accompli. A companion consumer study also conducted by McCann Health points the finger at millennial patients for exemplifying the trend.
See also: Is pharma's access to physicians decreasing or increasing?
This is just one area of tension manifesting as doctors' view of their profession clashes with today's changing healthcare dynamic. And the biopharma industry, for its part, needs to embrace a very different definition of doctors' roles and responsibilities.
"We don't know if doctors will be extinct or not. We don't know if the entire profession will change," Amar Urhekar, president of McCann Health Americas, said at an event to unveil the study findings, "but we truly believe there is something dramatically happening."
As part of the Truth About Doctor's study, 450 physicians — 70% specialists and 30% PCPs, split evenly among men and women, and representing a wide age range — were surveyed by the health communications network in partnership with McCann Truth Central, the global intelligence unit of parent company McCann Worldgroup, to get to know the human behind the white coat. It was the first of a three-part series designed to explore "the untold truth about health in America." Next in line are the Truth about Patients and the Truth about Pharmacists report.
See also: How physician preference for mobile influences strategy
For the Doctor's study, McCann employees asked specialists and internists such questions as what stories they tell at the dinner table and what they would have done had they not entered medicine. What emerged were four key pillars underpinning what the researchers call "doctorness:" it's anchored by authority, built on relationships, centered around trust, and fueled by gratitude.
Those four pillars are under stress. For instance, data from the Truth About Wellness consumer survey shows that 32% of Americans ages 18 to 34 years old think that they could be a doctor with little or no training, a statistic which — while fascinating in a bizarre way — suggests the younger generation doesn't value the years of training doctors undergo.
At the reveal hosted at McCann Worldgroup's Manhattan offices earlier this month (pictured), study co-authors Hilary Gentile and Laura Simpson showed a clip from a 2015 episode of "Jimmy Kimmel Live!" The comedian delivered a monologue about the anti-vaccine movement, which was followed up by a pre-recorded video (skip to 4:50) of several physicians defending their training and delivering a not-so-gentle reminder to people — particularly parents who haven't vaccinated their kids.
Moreover, the wellness survey showed, one in five patients said they trust their pharmacist more than they trust their doctor. "Authority is being questioned, the relationship is being challenged, trust is being eroded, and there is a lack of gratitude from doctors' point of view," said Simpson, who is EVP and global director for McCann Truth Central.
"How doctors define themselves is in conflict with how the world is changing," added Gentile, who is EVP and chief strategy officer for McCann Health North America. "Doctorness — the traditional way doctors practice medicine — is in jeopardy."
Indeed, physicians expressed skepticism as to whether the increased transparency of information today, with sites like ZocDoc allowing easy access to doctor reviews and wearable technology like FitBit generating all sorts of data, was actually helping the unhealthy or enabling a sort of tyranny among patients.
Simpson and Gentile identified several other ways in which doctorness is at odds with the new dynamic. Compounding the tension of transparency versus tyranny is one they call human versus machine, whereby patents' expectation of doctors to act with machine-like perfection contrasts with their need for them to be human beings. "We want them to be the ultimate caring ally," said Simpson. "At the same time, we don't want to see their humanness or know they're fallible."
Hilary Gentile (left) and Laura Simpson (right), present the findings of McCann Health's Truth About Doctor's study.
Next, consider medicine's shift to more of an algorithm versus an art. "The grey area of being able to read between the lines and connect the dots is being threatened," explained Gentile.

Mounting pressures for documentation don't sit well with the medical set, either. "Doctors are the ultimate matrix thinkers," she said. "They are artists and humanists. They want to solve problems by looking at things in many different ways. They don't want to be handed a sheet and protocol and told, 'This is the data and what I should be doing.'"
Then there's care versus commerce, in which HCPs are stripped of their autonomy by health systems that heap pressure on them to save lives while seeing more patients in a shorter amount of time. These trends clash with the factors that drove physicians into medicine in the first place.
"Doctors were at the heart of the ecosystem and everything revolved around them, including the patient," explained Simpson. "Now, the patient is at the heart of ecosystem and the physician is just one stakeholder amongst many."
See also: New consumer concerns harder for health brands to swallow
The keynote speaker at the McCann Health event, Dr. C. Michael Valentine, an interventional cardiologist who is also incoming vice president of the American College of Cardiology, said that the personality traits among the typical doctor — competitive, type-A perfectionist, compassionate, desirous of a stable job, and very independent — haven't changed all that much.
What is shifting is the demographic makeup of physicians across the country. According to data from a 2014 national survey he cited, 73% of cardiologists in the country are employed. "We're now in the corporate structure," said Dr. Valentine, whose Lynchburg, Virginia, practice merged with a health system a decade ago.
"That will impact every one of you as to how you approach the corporation as opposed to the family physician," he said. "Marcus Welby ain't there anymore."
How are doctors coping with this kind of pressure? When asked to rate their most important resources, time was number one. On the low end, only 3% cited the biopharma sales rep.
Mental energy, their team, a sense of humor, and the Internet were among the other resources HCPs said they draw on. Interestingly, there was a much higher reliance on empathy for older doctors and much less on the Internet, while the opposite was true for younger doctors.
"This begs the question," said Gentile: "Is knowledge becoming more of a resource for younger doctors vs. caring, compassion and empathy?"
See also: Engaging HCPs: Beer or Tacos?
To be sure, three-quarters of all physicians said they believe access to technology — on balance — is also a good thing for their patients because it makes them more proactive about their health and in getting checkups. Most surprising of all, said Gentile, was that 84% selected humor as one of the top three resources they rely on to defuse their daily pressures.
"As you think back to interactions with doctors, the stories they tell and how humor defuses it, it's amazing [that] when we do visual aids [for reps to show doctors]," she said. "Why haven't we used humor more?"
In fact, most of the tools marketers have at their disposal date back to an era when information about brands was passed down to KOLs and then out to prescribers in what John Cahill, global CEO of McCann Health, termed "presentation mode." "Yet, unless you've all fallen asleep, we've moved into a conversation paradigm," said Cahill at the Truth About Doctors event.
Read more about the implications for industry.