September 27, 2012
Mobile Partners
Klick Health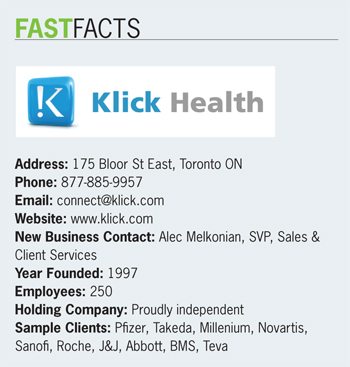 Company Profile
Klick Health is the world's largest independent digital health agency. Founded in 1997, we're a full-service digital marketing agency. We're laser focused on health, with in-depth leadership and experience across more than 20 therapeutic categories. We work with a variety of clients, including pharmaceutical, diagnostic, medical device, and managed care companies.
Services and Offerings
If it's digital, we do it.
With practice areas in Mobile, Media, IA/UX, Brand, Editorial, Creative, Social, Web/App Development, Hosting, Analytics, CRM, Learning, and Strategy, our team of 250 digital health experts orchestrate simple solutions that work with MRL and IT to reduce your hassles as well as improve your ROI.
iCONNECT, Klick's suite of sales based iPad apps, is designed to make every rep as good as your best rep. From training to pre call planning to detail to post call analysis, iCONNECT offers an amazing creative canvas with stunning analytics and rock solid compliance.
Our custom mobile solutions include:
• Smartphone and Tablet App Design and Development
• Mobile Web Design and Development
• Real-Time Analytics Measurement, Reporting, Integration
• Next Generation Interactive Content
• Geo-Targeting / Location Services, i.e. Point of Care, Out of Home
• Mobile Device Management and Support
• M-Commerce
• Social Media Integration and Listening
• Mobile Ad Unit Creative and Development (Rich Media, HTML5, Smart Ads, Smartphone/Tablet)
• Mobile SEO/SEM
• Mobile Couponing and Loyalty Programs
• SMS Strategy and Content

Case Study
When Millennium rolled out iPads to their field force, they turned to Klick Health for help on the software and creative. The results were immediate and amazing. "On average our field sales staff has gained an additional 5 to 10 minutes of face time when utilizing Klick's Health iPad solution with Health Care Professionals." ~ Bill Hyden, North Area Sales Director, Millennium.

If you'd like to increase the amount of time your reps spend with HCPs, get in touch at klick.com.