October 09, 2012
Best Use of Direct Marketing to Consumers
Download:

Category 3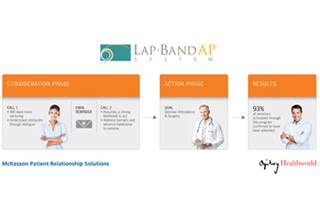 Recognizes excellence in direct promotion campaign/materials targeting consumers.
GOLD AWARD
McKesson Patient Relationship Solutions, Ogilvy CommonHealth Worldwide and Allergan
LAP-BAND Behavioral Call Campaign
This campaign targeted 50,105 people who had requested information about the LAP-BAND weight-loss procedure. McKesson Patient Relationship Solutions built a call campaign in which Patient Support Representatives (PSRs) guided these "handraisers" through the decision-making process, encouraging them to attend a seminar with surgeons who answered questions about weight-loss surgical options. On a $900,000 budget for 2010 and 2011 it delivered ROI of 5 to 1.
"An innovative direct -program," said one judge. -"Impressive ROI."
Personal connections were critical in guiding people through this decision-making process, with one PSR assigned to each handraiser.
Two primary phone calls were made and follow-up emails were sent. The first call objective was to uncover where the handraiser was in the decision-making process and schedule them for a seminar. During a second call, PSRs uncovered barriers to moving ahead with the procedure and provided more information to overcome those barriers.
"Highly focused and centralized," noted a second judge. "Great results!"
Results were indeed outstanding—5,136 incremental seminars were scheduled with 93% attendance, 62% of whom ultimately had a weight loss surgery. Out of the patients who opted for surgery, 46% had a laparoscopic procedure and 75% of them had Allergan's LAP-BAND procedure. Additionally, many handraisers bypassed the seminar but still took action—2,699 scheduled a LAP-BAND procedure; 1,000 scheduled an initial consultation; and 686 scheduled a laparoscopic procedure, but not LAP-BAND.
SILVER AWARD
The Agency Inside Harte-Hanks and Alcon/CIBA Vision
EyeFile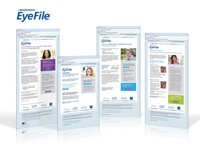 This email program targeting new contact-lens wearers, people who wear competing brands and existing customers surpassed revenue and ROI goals by 80% on a budget of less than $500,000.
The agency did a brilliant job of developing an email stream that accommodated more than 440 combinations of content and messaging.
"Excellent use of targeting," said one judge. "Impressive," said another.
Given this campaign's success, Alcon/CIBA Vision is continuing and expanding the program.
The Finalists
• Extrovertic and Vertex -Pharmaceuticals—Treatment Support RM Program
• McKesson Patient Relationship Solutions, Ogilvy Healthworld and Allergan—Lap-Band -Behavioral Call Campaign
• QualityHealth and Novo Nordisk—FlexPen® QualityConversationsTM Program
• The Agency Inside Harte-Hanks and Alcon/CIBA Vision—EyeFile
• Wingnut Advertising and Optum—Lifeprint Refer a Friend
Scroll down to see the next article