October 01, 2014
Career Paths: The Climb
As these eight pharma execs tell Larry Dobrow, achieving long-term success takes learning, listening, adapting and connecting with colleagues
Download:

The Climb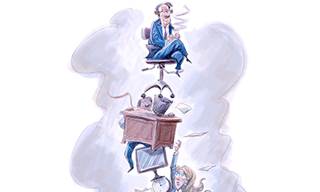 Career Paths: The Climb
THE EXECS
Janie Rodriguez, senior manager Toviaz marketing—global innovative pharma, Pfizer (below)

John Fish, global director, digital customer experience, AstraZeneca
Oved Amitay, vice president, head of commercial, Alnylam Pharmaceuticals
Deborah Dunsire, president and CEO, FORUM Pharmaceuticals
Robert Greif, vice president, commercial operations, Revo Biologics
Brianne Weingarten, executive director alliance management and R&D project leader, Purdue Pharma
Amy Chafin, director, US brand/marketing, Lilly Oncology
Sean Clark, head, US marketing, Alcon Surgical Division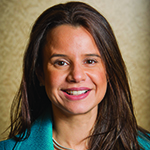 Janie Rodriguez, senior manager Toviaz Marketing—global innovative pharma, Pfizer
Time in the industry: 1
6 years
Original career goal:
College professor
Previous jobs:
Johnson & Johnson Pharmaceuticals Group, Strategic Marketing - health economics & pricing manager; Daiichi Pharmaceuticals—marketing; Boehringer Ingelheim—marketing
How did you get into healthcare/pharma?
After graduate school, I was hired by J&J based on my background on race-based discrimination and health outcomes.
What valuable skills have you picked up along the way?
Influencing and negotiation skills. This is of particular importance as marketers interact with legal, medical and regulatory groups.
What was your "eureka!" moment as a professional?
I'm not sure it happens that way. I think it is more like a progressive build of confidence as you pick up new skills and overcome challenges.
What has surprised you most about working in the industry?
Just how much of a healthcare/pharma marketer's time is devoted to non-revenue-generating activities (e.g. audits, contracts, business rationale forms).
To whom do you owe your success?
My mother. She taught me to be kind, empathetic and assertive, qualities that have served me well as a marketer working in a highly matrixed organization. It took me some time to realize it, but I also learned from her about work ethic, discipline and resilience.
Who were your inspirations and mentors, and why?
I've had different advisors and confidants along the way, but my boss at my first marketing job at Daiichi played a critical role in my development as a marketer. Dawn J. Smith taught me about process and project management while instilling the importance of being strategic. Most importantly, she emphasized the need to have fun while at work. She placed a butterfly sticker on my office door to emphasize the need to be social at work.
What do you consider to be your greatest professional strength, and how did you develop it?
I always ask for feedback about what I am doing right and what I need to stop doing. I don't like to wait for an annual review to get information about my performance. Although sometimes it's hard to hear, I prefer to get feedback in real-time and I actively seek it out.
Looking back, is there anything you would have done differently?
I would have asked more questions along the way. I was raised in a culture where asking questions could often be interpreted as being confrontational or irreverent. I wish I had realized those cultural differences sooner.
What advice would you give others looking to get into the industry or move up the ranks?
Always ask why. Be vocal; get yourself noticed. Working hard alone won't get you noticed. Join professional organizations, such as the Healthcare Businesswomen's Association (HBA) and volunteer. That is the best way to network.
Next page: John Fish, AstraZeneca