June 01, 2012
Devices & Diagnostics: The App Avant-Garde
Download:

App Avant-Garde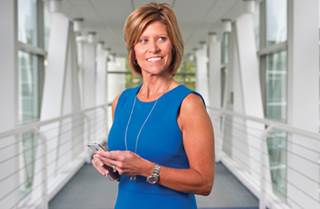 Anne Whitaker, president, North America, pharmaceuticals, Sanofi
PATIENT POV
Four health activists were assembled by Wego Health to represent the patient perspective, and asked for their opinions of iBGStar and other personal devices and apps. Click on the highlighted text below to see video featuring the activists. From left in photo below, Amy Gurowitz, Jackie Zimmerman, Andrea Martin and Scott Benner.

Before being shown the iBGStar, panelists were asked about the general state of health apps that run on mobile phones to collect health data and help them understand it.
"For me, coming from an MS perspective, I've not yet found a mobile app that I'm happy with," says Amy Gurowitz, author of the blog MSLOL.me and MS Soft Serve, a non-profit, online learning tool for people with multiple sclerosis.
Her constituents aren't luddites, but are "waiting and seeing if anything good is coming out," Gurowitz says. She laments the "cookie cutter" approach and lack of flexibility of those she has seen.
Jackie Zimmerman, a health activist for the MS as well as Crohn's and Colitis communities, is not shy about trying new ways to manage her health. "I am the epitome of a millennial," she says. "We are 100% early adopters." But Zimmerman, who blogs at BloodPoopTears.com and the MSUnderstood blog (themsblog.com), says "nothing has met my needs or done enough of what I'm looking for."
Connected and customizable apps got our health-activist panel's collective thumbs-up. Most pharma apps work in silos, they say. What's needed are apps which integrate—either with other apps or devices, if appropriate for that disease state, and offer personalization for multiple illnesses.
Apps that do a good job of documenting vitals and dosing have an added benefit: "I had to go to six doctors to [get one to approve my] endometriosis surgery," recalls Andrea Martin, a chronic illness activist and author of the "It's Time to Get Over How Fragile You Are" blog (fragileannie.com). "If [an app] would have been able to show them I had tried everything, I think I would have had more success."
As far as the $74.99 iBGStar, which combines a disease-management app and an iPhone-enabled blood-glucose tester, the device design is "a huge step in the right direction," says Scott Benner, who speaks from his experience caring for a daughter with type 1 diabetes. Time will tell whether the app improves on the usability of existing monitors, which he says seem like "whoever imagined collecting and showing the data was an engineer and not a person with diabetes or [a caregiver]."
Respondents also applaud the ability to e-mail information to the doctor, as well as the free counseling and coaching portion, which, Gurowitz points out, enable users to develop a personal health plan and with it a certain amount of control. "Patient control is so important because none of us feel like we have control when we're sick," adds Martin.
But its price tag could put off chronic illness sufferers, many of whose monthly budgets are maxed out on medications. "You're narrowing the focus with that," warns Gurowitz, who says MS community members are angry to begin with about drug prices. "As with anything pharmaceutical, I think there should always be a very well-represented affordability and for people who can't afford it, an assistance program… Whenever there's a price tag associated with anything, it better be good."