July 15, 2011
Global Report: Mobile Conquest
Download:

globalreport11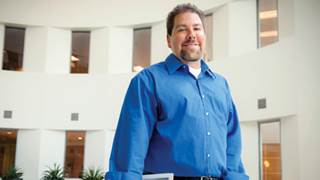 Global Report: Mobile Conquest
Embarking on a global roll-out of its mobile app for prescribers, Novo Nordisk faces some heavy regulatory and tech challenges. So far it's navigating those with aplomb, and the company's initiative could pave the way for others in this emerging genre of patient care.
"We saw a real sweet spot in addressing the need to supply doctors tools for the point of care—information a physician would absolutely need from Novo Nordisk when consulting for patients with diabetes," says Aaron Uydess, associate director, sales and marketing excellence, for the Danish company.
Uydess is leading the initiative out of the Copenhagen office. This summer affiliates in Spain and the UK will launch versions of the NovoMedLink mobileApp for healthcare professionals on iPhone and iPad. The apps help doctors help their patients by leveraging educational and other content culled from their specific version of the NovoMedLink web portal.
As of June 1, there were more than 15,000 HCP members registered globally. The app itself has seen more than 1,800 downloads, by clinicians in Germany to Saudi Arabia, Denmark to Brazil, and Indonesia to India, with an average of six minutes spent on the app per use. Additional roll-outs are planned to complement other existing NovoMedLink affiliates.
Novo Nordisk's mobile effort taps into a confluence of trends. Chief among them are the growth in global connectivity and smartphone adoption in the clinical setting, facilitated by the Apple devices, which have acted as lightning rods of attention for the platform as a marketing channel.

Connecting the docs
The vast majority of physicians in Europe already own smartphones, and physicians in the BRIC region are catching up. Among those in emerging markets, Brazilian doctors are the most likely to be advanced smartphone users, with more than half of online physicians falling into this segment.
In India, on the other hand, a relatively low share of online physicians are "advanced," meaning they use smartphones to browse the web, watch online video or use an app for work. Manhattan Research predicts "this is likely to shift rapidly with the accelerated growth in mobility in that country."
But it's what docs are doing with those devices—their propensity to hunt for patient education online—that really caught the eye of company execs. Nearly all doctors in the five biggest European countries seek online patient education materials, with about two in five online physicians in these regions using this type of resource weekly or more often (UK docs most frequently).
Apps that simplify the hunt answer a real physician need, says Uydess, but somehow aren't too common.
"We found that doctors, especially in Europe, are really starved for patient education," he explains. "We felt that that was the perfect storm to put something in the market that hasn't really been done by our competitors, which is to produce a point-of-care tool adding service as a value add-on to doctors who prescribe our product."
The regulatory situation, specifically industry's inability to do branded consumer advertising in any country other than the US and New Zealand, is part of the reason for the huge demand for patient education in Europe. Only non-product-specific awareness advertising is allowed in the EU and Asia.
In light of the limits, "we don't want to be seen as directly communicating to patients, so a lot of the [consumer] materials that we offer don't mention product names and instead focus on disease awareness," says Uydess.
Promoting to pros is different, and Novo Nordisk is not the only one leveraging clinicians' penchant for connected devices to deliver branded messaging. But globally speaking, there is no 800-lb. guerilla like there is in the US, where third-party mobile vendors like Epocrates and Medscape enjoy high brand awareness and penetration.
Some pharma apps have been developed for healthcare professionals in the European and Asian regions, although they're not necessarily focused on the point of care. Pfizer, for instance, partners with Epocrates, while Merck has deployed bespoke apps. Examples range from branded to unbranded and include disease calculators and reference tools.
Considering what's going on internationally, this may be an early trend, says Monique Levy, VP of research at Manhattan Research. But "it's becoming pretty clear physicians use mobile devices to help them make clinical decisions, and obviously everything points to the prime use case being during or right around that patient consultation."
While overall internet usage is highest after work when doctors educate themselves, mobile use peaks during office hours. "The question becomes, what can pharmas provide, and what should they provide, given that resources and specifications are different in each market?" asks Levy.