December 01, 2011
Leadership Exchange: Multichannel Marketing
Download:

Channel Surfing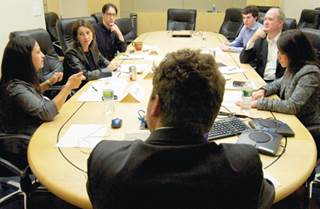 Leadership Exchange: Multichannel Marketing
James:
Debra, you spoke of a need to do more research. Are you finding you are investing more in research?
Debra:
I think there is a lot of research already available that you could draw upon. It's about seeking it out, getting the right companies to work with or the right resources to gain that information and then filling in the gaps to really test your message with that audience. The ultimate goal basically is to get that connection between healthcare providers and patients, if you're doing patient campaigns. Even if you're doing strictly professional campaigns, it's about enabling those physicians to better connect with their patients in the little time that they have available together. So, it's giving them enough information, so that when they spend those few minutes together they can have an appropriate conversation and make an appropriate decision.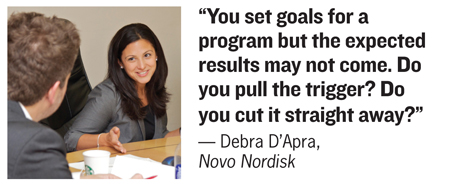 James: Because of the rate of technological advancement in the past few years and the explosion of new channels like social media and mobile, has it almost been a case of going back to the drawing board, in terms of determining the mix?

Janie: I find that I'm spending a lot of time finding the right vendors to align with all the different things that I want to do. We all have an agency of record but our agency of record may not be the expert in all these different areas. So we use them to help us aggregate. But it doesn't always quite work so well. It would be a lot easier if we all worked for the same company and we could bring it together and build this multichannel plan. That's not to say that there aren't issues with brand team structure too, because we're also very much siloed. I have the same agency building the consumer website that builds the HCP website. Sometimes I don't know of an issue until someone from corporate brings it up. I'm like, "Wait a minute, that's why I have the same agency." So, there are internal and external issues that need to be aligned before we can do multimedia fully integrated.

Karl: I totally agree. From a manufacturer's side you often see brand teams that are structured. This person is in charge of personal promotions, this one is in charge of conferences, this one is in charge of whatever else. They're not often orchestrating events. It can be a case of, "I'm going to have the best conference plan that I can have and it doesn't matter how it fits into everything else." Oftentimes, we're policing clients, which is not a role that they're excited about sometimes. Aggregating the expertise (of both agencies and clients) and coordinating it well is not something that can be done in the world that we all live in, which amounts to: Run through the day, get as much done as you can, hopefully not work until all hours of the night, go home and have a good meal and then start over the next day. I think companies have to encourage strategic thinking time and coordination time, which I haven't seen with a lot of the clients I've worked with over the years. It's been very much a case of, "How do I get done what's in front of me? And how do I measure success on that? Boom! Good… maybe we'll do another one next quarter." I think if anyone had the right answer how to overcome that, we'd all be rich. But right now, still, no matter how much we try to embrace an aggregated approach, brand teams and many agencies are just not structured to execute it.