March 01, 2012
Med Ed Report briefs—March 2012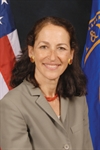 FDA commissioner Margaret Hamburg
told a House committee in February that FDA conflict of interest (COI) rules do not need to be relaxed. Hamburg cited FDA data showing that the percentage of COI waivers and advisory committee vacancies has stayed low.
Med-IQ,
an accredited CME provider, said its performance-improvement CME initiative in multiple sclerosis was approved as part of the American Board of Psychiatry and Neurology's maintenance-of-certification program.
The American Medical Student Association
will launch its 2011-2012 PharmFree Scorecard on March 8 as part of its Annual Convention in Houston.
Pharma companies
dedicate 1.9% of their med-ed FTEs and budget to the Asia-emerging areas, while device companies allocate 7.5% of their med-ed FTEs and 6.4% of their med-ed budget to these areas, according to research by Best Practices, LLC.
The American College of Physicians
(ACP) and CECity are using a pilot among diabetic patients in ACP state chapters to test the ability of CECity's cloud-based MedConcert to improve patient-care processes and outcomes.
Scroll down to see the next article