February 01, 2012
Medical Advertising Hall of Fame: Lasting Legends
Download:

Living Legends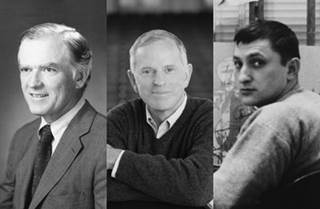 From left: Charles P. Daly, Albert G. Nickel and Ernest Smith
The Medical Advertising Hall of Fame's three new members have had exceptional lives and careers. We look back at their achievements
Charles P. Daly
CAREER HIGHLIGHTS
1960s
Joined Medical Economics in 1962. After an ad world stint, he returned to The Medical Economics Co. as a publication manager before becoming publisher of Medical Economics
1970s-80s
Promoted to EVP and then CEO of The Medical Economics Co. When Litton Publications acquired The Medical Economics Co. in the late 1960s, he was named CEO. Thomson acquired Litton in 1981, making him chairman of Medical Economics Inc.
1990s
Upon "retiring" in 1991, he taught and advised students in NYU's Masters of Publishing Studies program, co-authored a college textbook called The Magazine Publishing Industry and started a consulting business focused on leadership-development training. He held a business administrator position at New Providence Presbyterian Church
2000s
Named president of the board of Family Connections, a NJ-based social services agency
Renowned for adhering to strict principles of publishing ethics, Charles P. Daly made many significant contributions to his industry. Beginning as an ad salesman at Medical Economics in 1962, he rose to become publisher of the title, then EVP, CEO and chairman of its holding company. Along the way, he helped grow The Medical Economics Co. from a family-owned business to a major force in healthcare publishing; elevated Medical Economics to the premier brand in its category; developed and launched numerous additional healthcare titles; and mentored legions of publishing professionals, many of whom became industry leaders themselves.
"He was a stabilizing influence on our industry," explains Jack Angel, former EVP of The Medical Economics Co. "Some positions the publishing industry took to ensure readership and reader satisfaction [were at odds with] advertisers. It would be very easy to give in and do whatever they wanted, but… Charlie was unwilling to do that. Consequently, he. . . gave the rest of the publishers cover to say, 'We're not going to do it, either.'"
Carroll Dowden, a Medical Economics colleague, recounts a story illustrating Daly's refusal to compromise, even when a major pharma advertiser threatened to pull its ads—and did. "The company eventually returned, on Charlie's terms," says Dowden,. "In the meantime, Medical Economics enjoyed record revenue, even without its largest advertiser."
Daly's daughter, Elise Daly Parker, currently editor of HM Exchange, says people were her dad's top priority. "He knew everyone from the mail room to the board room on a first-name basis," Daly Parker says. "He believed everyone deserved respect."
Daly, who passed away in 2009, is remembered by colleagues and family as having a great sense of humor. Maintaining a familial internal culture was important to him, and he carried forward the spirit of the family-owned business even as ownership changed.
Angel says he has sought to emulate several of Daly's leadership qualities, including his decisiveness and his practice of sharing a drink with employees in his office at closing time while discussing goings-on in their personal and professional lives and inquiring as to how he could improve the company.
Before joining Medical Economics, Daly spent 13 years in sales and management training at Shell Oil. He left the magazine for a two-year stint at healthcare ad agencies Klemtner and Robert A. Becker in the mid-1960s before returning at the request of owner Bill Chapman to turn around RN, which was losing money. Within one year, RN was generating a $100,000 profit.
After Chapman retired in 1973, Daly became CEO of The Medical Economics Co. A number of titles were added to the portfolio, including Hospital Physician, PDR, Drug Topics and The Red Book. He also launched Medical Laboratories Observer, Diagnostic Medicine and demographic editions of PDR.
From 1975 to 1981, Daly was CEO of Litton Publications, which acquired The Medical Economics Co. in the late 1960s. He oversaw numerous healthcare titles, textbooks, trade books, several consumer titles, and began mechanizing delivery of PDR.
Thomson acquired Litton in 1981 and named Daly chairman of Medical Economics Inc. The book companies were sold, and Thomson invested heavily in healthcare. Daly concentrated on development and acquisition, bringing into the fold a number of products, including veterinary magazines, healthcare newsletters, dental magazines and Patient Care.
After retiring in 1991, Daly taught in NYU's Masters of Publishing Studies program; co-authored The Magazine Publishing Industry, a widely used textbook; worked as a church administrator; and coached executives. He was also immersed in work as president of the board for the New Jersey nonprofit Family Connections, and he served as the primary caregiver to his wife, who suffered from Parkinson's disease.
"Charlie had so much to teach about the pharma industry, the publishing industry, and about Medical Economics and its standards, which were in my humble estimation the standard for the industry," Angel says. —Tanya Lewis