February 01, 2012
Medical Advertising Hall of Fame: Lasting Legends
Download:

Living Legends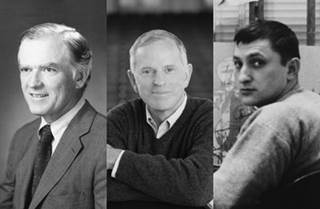 From left: Charles P. Daly, Albert G. Nickel and Ernest Smith
Ernest Smith
CAREER HIGHLIGHTS
1950s
Started work at Sudler & Hennessey as a designer. He later became creative director
1960s
Herb Lubalin, who hired Ernie at S&H, lured him away to form Lubalin, Smith, Carnase, Inc.
1970s
After leaving the business to manage a resort, he returned to work with Lubalin
1980s
Rejoined S&H in 1980, retiring in 1989
Whenever one asks members of the medical-advertising community about a legend of the business, the responses come across as canned and predictable. The individual in question was a "genius" who "practically invented this thing that we do" and "innovated practically every minute."
But when one asks former peers—including his ex-wife, a co-worker at Sudler & Hennessey for several years after they divorced—about Ernie Smith, their quick-hit impressions are very different.
Respondents toss around the expected plaudits—appropriate, given his creatively prolific 30-year tenure in the business—but they speak first about Smith as a person. They note his intellectual and creative generosity, applaud the eagerness and interest with which he mentored younger staffers, and recall how he treated the janitor the same as he treated marquee clients. In short, they remember a big shot who never acted like one.
"Ernie was one of the originals in this business," says Robin Davenport, creative director of Sudler and S&H division SentrixHealth, who worked under Smith as a junior copywriter. "There was nothing at all intimidating about him, except the degree of his talent." Adds Fay Barrows, a longtime Sudler employee and the mother of his three children: "He was a very natural and honest guy. There was no artifice."
Smith's disinclination to proclaim his creative bona fides, in fact, might be why the Medical Advertising Hall of Fame is only now getting around to enshrining him. "Lots of people who were big on talking about themselves and putting their names on doors have been recognized," says Louisa Holland, Sudler's co-CEO, the Americas, who first encountered Smith when she was a young account person. "That wasn't Ernie. He didn't blow his own horn."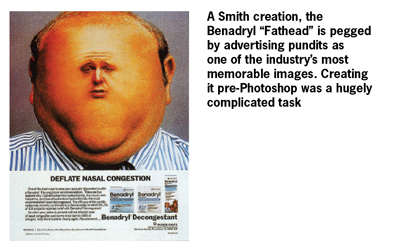 Which isn't to say that Smith lacked reasons to do so. He won scores of Art Directors Club awards and Gold Medals, working with med-ad luminaries (Herb Lubalin) and pop-culture icons (Andy Warhol) alike. At every professional stop, he was the "ideas man," the rare individual who didn't traffic in what Holland refers to as "the borrowed metaphor. With so many people, it's like, 'Here's a picture of a butterfly—how can we make this make sense in the context of the product?' Ernie didn't go into art or photo books. Nothing was borrowed. It all came out of his head."
One such idea, the "Benadryl Fathead," is identified by med-ad pundits as one of the industry's transformative images. To depict the respiratory scourge that is nasal congestion, Smith dreamed up and created the image of a wheezing, comically overinflated face—a hugely complicated task in the days before Photoshop. "You looked at it and you knew exactly what the image was trying to say," Barrows notes. "He could always tell a story without words."
Smith was no less fascinating outside the office. He pursued his interests vigorously, especially jazz (the Smithsonian now hosts his collection of jazz films) and black dance (he contributed to the Dance Black America Festival and donated works to the Schomburg Center for Research in Black Culture). Barrows recalls a short silent film he created with a friend, in which he played a German World War I fighter pilot and she was drafted into service as a Dietrich-like muse. "He was a renaissance man," she says.
Smith's greatest legacy may be that he was incapable of not sharing his talents and interests. After retiring, he returned to Sudler's offices regularly to give lectures about the histories of the agency and the business. "One of the benchmarks for the Hall of Fame is, 'Would the industry be different if the inductee hadn't been a part of it?'" Holland says. "Between his work and his interests and the way he influenced the next generation as a teacher, the industry would absolutely have been different without Ernie."
—Larry Dobrow