April 01, 2013
MM&M's Best DTC Ads Ever
Download:

Top 10 DTC ads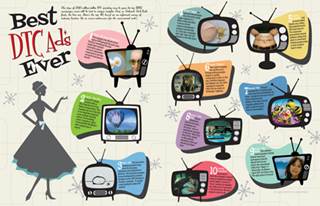 MM&M's Best DTC Ads Ever
6 Spiriva: "Elephant." This current campaign was another one to leverage anthropomorphic imagery to quickly communicate an idea. In this case, Draftfcb integrated the Elephant into the COPD campaign for impactful effect and top results at Boehringer-Ingelheim.
7 Nasonex: "Bee." Using an animated bee to remind people about hay fever and allergies was clever—giving him the suave voice of Antonio Banderas was brilliant. This multi-channel campaign pulled all the sight, sound and motion levers of memorability.
8 Lipitor: "Belly Flop." Pfizer's blockbuster drug has had many campaigns over the years—but our respondents reminded us that the "Belly Flop," circa 2003, seemed to offer patients absolution if diet and exercise just didn't work.
9 Boniva: "Sally Field." This celebrity-based campaign's linkage between brand and spokesperson directly
aligned with Boomer women who remembered Field from "Gidget" to "Norma Rae." As Abelson ­Taylor SVP Jay Carter notes, "The right person for the job."
10 Lunesta: "Luna Moth." Respondents cited this campaign's overpowering and ubiquitous imagery, and its ability to connect a "lunar" creature for sleeplessness offers a bit of mnemonic to the brand name. We can't imagine it with an owl.
Although there were many runner-ups—including Viagra ("A Man Fixes Things"), Cialis ("Tubs"), Nexium ("Purple Pill") and Gardasil ("One Less")—the 10 ads listed above were deemed "The Best" by our respondents.
Besides noticing that these winning campaigns were from mainly broad categories like lipidemia or from big DTC advertisers like Merck, or that anthropomorphic characters are popular, we repeatedly heard that these campaigns were "breaking new ground" or were well-connected to a patient insight.
Cathy Downey, a director at Ironwood Pharmaceuticals, noted, "These campaigns used single-minded insights translated into memorable and impactful creative that built brands and drove consumers to act for better care." Monique Levy, VP at Manhattan Research, commented that DTC made conditions such as ED "feel normal and mainstream."
Today's fractionalized media environment demands more sophisticated DTC campaigning and more highly targeted activity. The days of $350-million TV spending may be behind us and the days of social networking, blogging and gaming lie ahead—and that's exciting for DTC marketers. But perhaps one thing will remain the same for all the new DTC efforts going forward—a brand must be tied to a unique insight, and "The Best" campaigns always deliver that with a magical something that's more than words.
Deborah Dick-Rath is the president of Epic Proportions, a healthcare communications consultancy.
Historical ads provided by Competitrack, a full-service company that tracks advertising creative and spending in the US and abroad (www.competitrack.com).