January 02, 2013
MPR redesign streamlines info, adds prescribing tool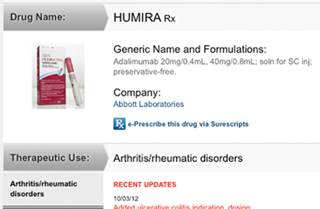 Monthly Prescribing Reference has unveiled a redesign—its first since 2009. Tammy Chernin, VP of drug information and product development at MPR, told MM&M that one reason for the revamp was that the site "wasn't as intuitive to our users as it could [be]."
Like MM&M, MPR is published by Haymarket Media.
One goal of the redesign was to streamline the information professionals need to wade through. While the basic structure of the site is the same, MPR changed how drug information was ­displayed. Now, instead of multiple listings for one drug, based on indication, the revised site consolidates information so that multiple search terms link to a centralized, tabbed monograph instead of having one monograph for each search term.
Chernin said the refresh was also about finding ways to make MPR more than a reference, and helping it become a greater part of a professional's daily workflow. To this end, the publication added a free e-prescribing service, which means that healthcare practitioners can now use MPR to look up a drug and write a prescription for it without having to go to a third party. The prescribing tool is linked to product resources, like coupons and patient assistance programs, giving the estimated 45% of doctors who do not have electronic health records—which typically include e-prescribing—a free resource. Chernin said research showed they had a built-in audience for the tool: 75% of the 9,000 polled doctors said they would use it after looking up a drug on the site.
Scroll down to see the next article