November 30, 2012
Name That Brand: December 2012
Can you name the brand? Each month we print part of a popular pharmaceutical product or advertisement, with clues to its identity. Readers are invited to name the brand for a chance to win a copy of Medicine Avenue II. E-mail your answer to NameThatBrand@haymarketmedia.com or fax 646-638-6150. The deadline is December 31, 2012. The winner will be picked randomly from all correct entries.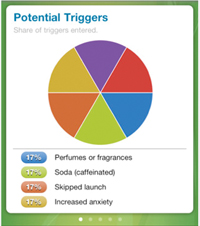 Brand X gives an old name a new spin
An alternate title for this picture could be "Do you remember me?" This OTC medication has been gone for a while, and although nothing may have taken its place on drugstore shelves, the drug maker is taking no chances, pairing its revival with a condition-awareness campaign and a handheld app that helps patients track symptom triggers and lets them send this info to physicians between or even before appointments.
OCTOBER'S WINNER...
Sandy Buck, Group Copy Supervisor at The Access Group, correctly identified an ad for Juvéderm XC, Allergan's gel filler used to smooth away wrinkles around the mouth and nose.
Scroll down to see the next article