August 29, 2014
Patient Education/ Marketing: Keeping Pace with Patients
Welcome to patient education circa 2014: With patient expectations at an all-time high, pharma marketers are struggling to keep up in the quest to make meaningful contact with tech-empowered audiences. But a few savvy companies seem to have cracked the communication code, moving to the forefront of this movement. Larry Dobrow reports
Download:

Keeping Pace with Patients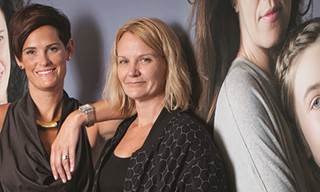 Lara Viau (left), SVP marketing at Digitas Health LifeBrands; Vic Noble (right), consumer marketing lead–ADHD, Shire
A decade ago, patient education was a fairly linear process for the self-appointed educators at pharma and marketing firms. They'd assemble the relevant information—often poached from preexisting materials—and cobble together a print brochure or a how-to-get-started kit, ideally featuring hale-looking individuals on the cover. They'd then arrange to have that brochure or kit displayed in waiting rooms, where information-needy patients would lap them up while waiting to be seen by a physician. In theory, anyway.
Perhaps that's why the industry has had so much trouble creating impactful patient-education programs over the last five years or so: Once you get used to doing things a certain way, it's challenging to adjust your approach on the fly. And it's doubly challenging to do so when your hand is being forced by the very people you're hoping to educate: tech-empowered audiences who not only view your information through a veil of skeptical resolve, but also seek out new facts and opinions at every point in the treatment arc.
Welcome to patient education circa 2014, where patient expectations are high and pharma marketers struggle to keep up. "We've reached a critical pivot point," says Shannon Hartley, who leads Rosetta's Healthcare Industry Group. "Education was traditionally a talking-at approach, but now patients have more options. They're making their own choices as to what they'll see as valuable and what they won't."
The impact of those patient-ed programs are similarly compromised, as even the most reputable voices can have a hard time being heard amid the digital clamor. "Patients are just inundated with information," says Stephanie Tsolakis, senior manager, brand marketing at Teva Pharmaceuticals. "You can understand why there might be some frustration." CDMiConnect President Deb Deaver agrees, adding that the information overload is rendered even less manageable by the varying reliability of that information. "The quality sometimes isn't there. Clearly there's an opportunity for respected, accurate information… but what's out there might not be correct. 'Patient education' as a label has challenges in our world."
That's before one factors in the ever-more competitive product landscape for most drugmakers. Merkley + Partners creative group head Steve Pashkoff notes the increasing number of products in many therapeutic categories. This, he believes, has diminished the motivation for companies in those categories to invest in patient-education programs, especially unbranded ones. "There's less ROI," he explains. "Think about it—if you do [an unbranded campaign], you're educating about the category. It benefits the category, not you."
Despite the challenges healthcare marketers hoping to devise inventive patient-education campaigns face, a few recent efforts prove that for marketers willing to invest the time—and perhaps go outside their comfort zones—patient education doesn't have to be a chore.
Take Shire's "Keep Momming." which launched in July. The effort marks Shire's second attempt at an all-encompassing "disease-awareness/help-seeking/education" campaign, says Vic Noble, consumer marketing lead—ADHD at Shire Pharmaceuticals. The first, the "Own It" initiative, encouraged young adults and adults to speak openly about their experiences with ADHD—to own those experiences by sharing them. The unbranded "Keep Momming" campaign has more of a straightforward educational thrust: It seeks to help mothers better identify the symptoms of ADHD in young girls and to make them more cognizant of the inattentiveness aspects of ADHD (as opposed to the easier-to-spot hyperactivity ones).
"Mom is a fixer by nature. Sometimes she fixes things before they need to be fixed," says Noble. "But mom needs help identifying what are ADHD symptoms and what's typical behavior."
"Keep Momming" represents a step forward due to its all-encompassing nature, the result of 18 months of prep work. During that time, Shire and its partners at Digitas Health LifeBrands convened an advisory board of what Noble calls "leading female ADHD voices, people from the beauty industry, a teacher, an author, a small-business owner—women who talk to women 24/7." Along the way, Shire (which has a portfolio of ADHD products) and Digitas gleaned a key insight: hyperactive boys were the face of ADHD, but distracted and inattentive tween girls were "diagnosed" as, well, just distracted and inattentive.
"When we put this in front of moms, they were like, 'A-ha! You're talking about me and my daughter. Where do I go to get this information?,'" recalls Digitas Health LifeBrands SVP, Marketing Lara Viau. The "Keep Momming" site offers them that information—with mom/daughter testimonial videos and content curated from a host of ADHD and mommy blogs (ADDitude Magazine and iMom, among others). The early-campaign interaction with moms, bloggers and members of online ADHD communities led to wide social-media pickup, as did bringing on celebrity spokesperson (and enthusiastic Tweeter and Instagrammer) Holly Robinson Peete.
"Eighteen months ago, when we started doing this, [interacting with] bloggers wasn't necessarily on the horizon," Noble says. "Five years ago, we probably would've just done TV and print and maybe a destination website… But this is how our audiences get information now."
Genentech's "Act FAST" stroke-awareness campaign also responded to the preferences of its target audiences. Like the Shire program, Genentech's effort targeted individuals close to the patient but not the patient him/herself. The program and its site, devised with CDMiConnect, were aimed at the people who need to "Act FAST" when they encounter a potential stroke victim—the ones who can get that victim assistance. The challenge was to educate those people about stroke symptoms and grow their awareness of strokes, even if they weren't personally at risk.
Genentech played the role of unifier, taking the educational lead on behalf of the greater stroke community: nonprofits, patient advocates, hospitals and others. Starting in 2011, it attempted to bring together all such stroke-awareness efforts under the FAST (drooping Face, weakness in Arm, slurred Speech—Time to call 911) banner. It created ads, outreach materials, social-media resources and PR materials—offering them to anyone/everyone free of charge.
Genentech, which markets Activase for strokes, succeeded because it went big. "It was important to create a patient-education campaign that could easily be grasped and articulated," says Venu Vittaladevuni, Genentech group product manager, in response to e-mailed questions. "We understood that creating a highly accessible campaign was the key to really be able to change behavior and save lives."
While Genentech boosted stroke awareness by targeting a broad population, Teva took the opposite approach in a campaign to educate asthma patients about a specific product trait. The company's QVAR inhalation aerosol works differently than most such asthma products: It contains small particles of medication, which can reach small and large airways in the lungs; asthma patients commonly experience inflammation in both passageways. "It's a complex message," admits Tsolakis.
In conjunction with Merkley + Partners, Teva found an ideal, and decidedly low-tech, way to convey it. While brainstorming ideas to distinguish QVAR and its unique attribute, Teva worried about waiting-room clutter. "There are brochures, posters and tear sheets. Maybe there's some video. There are smartphones," Tsolakis notes. "We wanted to break through all of that."
Teva did so with a device that hearkens back to road trips in the pre-iPad/-DVD era: A game of sorts, patterned after the old diversion in which players had to roll around a silver ball until it fell into the clown's nose. The device/tchotchke/whatever illustrates QVAR's effectiveness by reimagining that game as a journey through asthma-affected lungs.
"If you look at other patient-education pieces, they generally don't get into the 'how.' They're usually about the product benefits. But here, we had this small-particle story, which was both a differentiating one and one that loaned itself to that tactile, visual approach," says Merkley + Partners' Pashkoff.
That low-tech, nostalgic approach to education—in this instance, product education—was a perfect fit. The piece illustrated QVAR's primary distinction and proved a waiting- and exam-room magnet for patients. "Why does everything have to be a computer or iPad thing?," asks Erich Hartmann, Merkley creative group head. "You can stand out as much with low-tech as you can with high-tech."
So what lessons can other would-be patient educators take away from these and other successful campaigns? First and foremost, that it's all about the insight. Marketers may want audiences to react a certain way to its educational messages, but audiences won't respond unless something about those messages—their tone, their empathy, their call to action—strikes a chord.
"In the past, education was a brand dictating to a patient," says Rosetta's Hartley. "But there are personalities that override the disease- or condition-specific aspect. What's your emotional outlook towards health? When you were diagnosed, did you feel positive—like you could tackle anything—or did you feel overwhelmed? How do you feel about medication? All of these dimensions and insights shape how you're going to react to and engage with a brand or program."
That insight must also be conveyed in a way that serves up some motivation alongside the education. "People want to be educated, but they need the education that's right for them, and in a way they just get it," says Pauline Coderre, strategy consultant, health education development for US medical at Eli Lilly, and one of the execs in charge of the Lilly For Better Health online education resource.
Don't forget to tend to your potential allies, especially those in like-minded organizations, while you're focusing on educating external audiences, though. Vittaladevuni notes that one of Genentech's biggest challenges in implementing "Act FAST" was convincing other entities with an interest in promoting stroke awareness to follow the company's lead. "Although many organizations provided resistance to change their messaging, Genentech sponsored market research with stroke survivors and the general public, which convinced the organizations about the effectiveness of FAST messaging."
Of course, while collaboration is valuable in many patient-education scenarios, not every program demands a coalition of the willing. The success of Teva's QVAR piece suggests that organizations considering bold approaches might want to go it alone. Still, asked whether there was any risk in Teva's low-tech, nostalgic appeal, Tsolakis shrugs. "Not really. The copy was right and the idea felt right." Hartmann agrees: "People respond to fun, honest and simple."
Finally, never underestimate the role that passion plays. Anyone who watches a "Keep Momming" mom/daughter testimonial or examines one piece of campaign material can't help but be swayed by the depth of commitment. Paired with a powerful insight—the under- and non-diagnosis of ADHD in tween girls—that passion can turn a patient-education program into something like a movement.
"It worked because it's genuine. It's genuine because we tapped into the world of these moms," Shire's Noble says. "These weren't actors telling a story; these were moms who know what it's like to raise a daughter with ADHD. It got across the information, but also the huge sense of empowerment and relief that comes with the diagnosis."
Next page: Robitussin, a Brooklyn kid and the birth of "Ask Your Doctor"