August 30, 2013
Patient Marketing Report: Essence of Engaging
Download:

Engaging Sep 13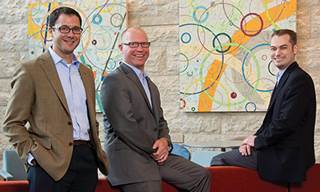 Patient Marketing Report: Essence of Engaging
WHICH BRANDS STILL PUT PATIENTS FIRST?
Alyson Connor shares the results of a study by MicroMass on how pharma is meeting the patient-support challenge
Positive Patient Outcomes" is the mantra of American medicine as it haltingly makes its way toward patient-centered care. Pharma has adopted the axiom, too, recognizing that patients are an important driver of brand success. But how well is pharma supporting patients? And are support programs structured to improve patient outcomes?
The news from our research is that pharma has upped its game—current patient-support programs averaged 71 on the 0-100 point scale, up from an average of 55 in 2011. However, the two most notable findings underscore the fact that most pharma companies continue to view support programs through a product-centric lens:
• Therapy management was the highest performing dimension of seven evaluation dimensions (average of 81 across all programs), illustrating that pharma is effective at communicating how and why a product should be used and at helping provide access
• Patient experience was the lowest performing dimension (average of 64 across all programs), demonstrating the industry's continuing reliance on a portfolio approach to developing patient support programs—pulling together tactics and services into an offering, but not in a way that is guided, easy to use, or truly meaningful to the patient.
How the programs were rated
In our follow-up evaluation of pharma patient-support programs, MicroMass behaviorists examined 39 programs across 19 therapeutic categories. We used a proprietary seven-dimension framework for rating the programs. The seven evaluation categories are:
1. Patient alignment
2. Illness perceptions
3. Patient-provider relationship
4. Therapy management
5. Marketing
6. Social/environmental factors
7. Patient experience
Each dimension is based on empirical drivers of health behavior change and positive patient outcomes. This framework differed slightly from the 2011 methodology, without significantly affecting the ability to compare the two studies. As with our earlier research, the follow-up evaluation produced a score of 0-100 for each dimension.
Delving into the results, it's clear that pharma is largely missing the boat on two imperatives: how to put patient needs first and how to change patient behavior. A lot of information is being disseminated, usually liberally laced with brand data. But information alone does not alter behavior. If it did, there would be no smokers among us and everyone would be an ideal weight.
So while pharma is investing more heavily in patient-support initiatives, our research showed that the industry is not building a capability in behavior change. This is a glaring blind spot considering that patient-support programs are especially valuable for chronic diseases, where 95% of care is self-management and positive outcomes rely largely on patient behavior.
Pharma continues to view patients through a product-centric lens that focuses solely on easing access issues and disseminating information to help patients understand how to take a medication.
Access and information are important, but on their own they will not lead to long-term behavior change and positive patient outcomes. For that, marketers must view patients through a broader lens and invest in strategies that motivate patients to make better health decisions.
Moreover, few brands are leveraging mobile technology into the design of their patient support programs. Only 7% offered mobile applications and only 25% of patient-support websites were designed for mobile use, the latest research shows.
Who's leading the way?
Several brands are raising patient support to new levels. Diabetes and rheumatoid arthritis programs clearly led the way, landing seven of the top 10 spots in the study. Here are three programs that stand out for using behavioral strategies to improve patient outcomes:

Jentadueto/Tradjenta "My Well Planner"
Boehringer Ingelheim and Eli Lilly
Scoring 100 in "patient alignment" and doing well in two other categories, this program for adults with type 2 diabetes delivers customized tools and content based on an assessment of each patient's engagement in his/her healthcare. Goal setting, disease and treatment information, planning, progress tracking, and guidance in interacting with the healthcare team are integrated to enhance patient outcomes.

Bydureon "Steady Support Program"
Bristol-Myers Squibb & AstraZeneca
Rating 100 in the "marketing integration" category and scoring high in two others, this program, also for adults with type 2 diabetes, is integrated into the brand story, appearing on the product and healthcare provider websites with consistent messaging. A "bchange platform" uses evidence-based behavior-change strategies to encourage optimal outcomes.

Lantus "Connection"
Sanofi
Earning 88 in "therapy management" and excelling in a second category, this program, for adults with type 2 diabetes and adults and children over the age of six with type 1 diabetes, guides patients through a smart and practical action plan. It addresses what to expect when starting Lantus and helps patients fit the medication into their daily routines, track their progress, and work with their doctors if adjustments are needed.

Where do we go from here?
Traditional patient marketing approaches drive awareness and evoke emotion, but are not effective at addressing the complex behavioral challenges that stand in the way of positive outcomes. Evidence-based strategies that actively engage patients and modify their underlying beliefs and behaviors are the key to product and patient success.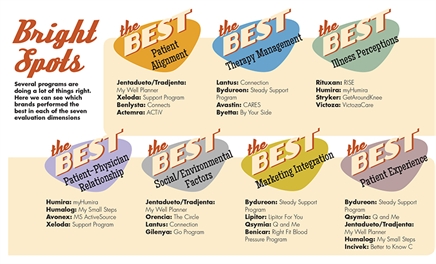 With its experience across therapeutic categories and access to healthcare stakeholders, pharma is well-positioned to close the gap on patient-centricity and capitalize on healthcare's need for better patient outcomes. To do this, however, the industry must view patients through a different lens and build a new capability in behavior change.
In this model all stakeholders benefit and pharma delivers value that transcends patent cliffs and pipelines.
CLICK THE IMAGE ABOVE TO SEE THE BEST PROGRAMS IN THE SEVEN CATEGORIES
---
Alyson Connor is president/partner, MicroMass Communications.