August 31, 2012
Patient Marketing Report: From A1C to Z
Download:

Patient Marketing Report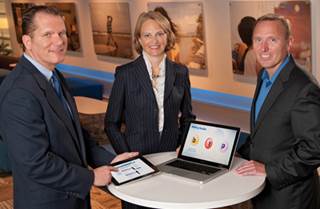 Novo Nordisk's Bob Muha, Amy West and Martin Jernigan
PATIENT POV
Three health activists (below, from left, Scott Benner, Sysy Morales and Kate Cornell) were assembled by Wego Health to represent the patient perspective, and asked for their opinions of Cornerstones4Care and other diabetes education efforts.Click here to see what the panelists have to say about the abundance of diabetes education online, and here to get the their specific feedback on the Cornerstones4Care program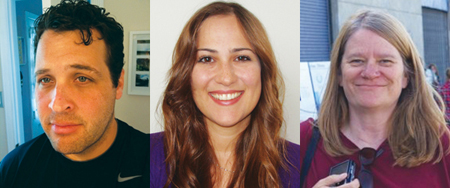 With an overabundance of online health information competing for patients' attention, it can be hard to break through and be heard, especially in a crowded category like diabetes.
Why is it that a pharma company can spend a ton promoting its website, only to see a blog gain more web traffic? "It tends to be ignored if it's direct from pharma to us," says Sysy Morales, a patient with type 1 diabetes who blogs at thegirlsguidetodiabetes.com.
Panelists say their preferred avenues for diabetes education start with blogs, followed by mainstream social media, online patient hubs and forums, pharma-backed product or disease-information sites, and lastly websites of non-profit health centers or organizations.
"Nobody's diabetes is the same, so getting direction about it is almost impossible," says Scott Benner, who cares for a daughter with type 1 diabetes and speaks to other parents via the blog ardensday.com. "But when you hear somebody who starts telling a story that sounds similar to yours, you feel a connection…and then that person seems like a viable option to learn from."
To be sure, blogs, Twitter and Facebook represent someone's opinions or ideas. Individuals should research a topic themselves, bounce information off a healthcare provider, and look at a variety of sources to glean what works best for them, panel members say.
Adds Kate Cornell, who has type 2 diabetes and blogs at kates-sweet-success.blogspot.com, sometimes "support" is the best form of education. She mentions the "You Can Do This" project, an online initiative run by diabetes advocates that gives people a chance to tell their stories by posting videos. "I learn most from reading other people's blogs," she says.
Not that bloggers are the pinnacles of altruism; many can be self-promotional. But an opportunity is there "to feel comfortable enough to at least find out more about it," says Benner. "When it comes directly from the corporate side, there's an anticipation that it's being done for business reasons."
When they do get involved, how can industry appear sincere? "Once [individuals] start something on their own and find a connection with pharma… it's easier to trust it," says Benner.
Consider grassroots project the Diabetes Hands Foundation, which was founded by Manny Hernandez, himself a person living with diabetes, who has gone on to partner with such pharma companies as Roche and Sanofi, to deliver education and support.
That model is one way to garner legitimacy in the community. "[Companies are] going to have to brand backwards if they want a piece of this," says Benner.
Another approach is the industry-funded program that's led by patients. Morales volunteers for an unbranded educational effort called A1C Champions, a Sanofi-backed initiative in which people living with diabetes lead informational workshops for groups of sufferers.
To be successful, educational campaigns must also reach more people than those with a Twitter handle or Facebook page. They "have to find a way to get past this virtual wall and get out to the people who really need the help," says Benner. "Those of us that are this tech savvy could go find the information on their own. I have the opportunity to speak to people who aren't connected like this, and they struggle...They're fighting against basic concepts, because nobody has the right information for them."
Adds Cornell, "Sometimes those of us who are online a lot kind of live in a bubble and tend to forget there are thousands and thousands of people out there who are not online and, based on my experience when I was diagnosed, I got nothing. There's a complete lack of educational information on the ground. For a program to be successful, it needs to be available in a variety of different places and in a variety of different ways."
Ironically, one of the places where patients complain of a lack of education is right in the endocrinologist's office. "Pharma companies have such an easy pipeline through their sales reps to make these kinds of things more visible to people, but…no one has ever once mentioned anything that I've seen online to me in my doctor's office, and my daughter goes to one of the more prestigious children's hospitals on the East Coast," says Benner.
Walmart, where people often go to save on diabetes supplies, would be a good conduit to reach people who, say, need information on access programs. "You have to go find them; they're not going to be able to find you," Benner says.
Since diabetes manifests uniquely from patient to patient, an educational site that tries to cater to a wide swath of patients and caregivers is an ambitious undertaking. But that's what Novo Nordisk's online support site CornerStones4Care tries to do. Billed as a one-stop source, it offers information about diabetes and Novo treatment options and delivery systems, as well as a program of tailored dialogue for enrollees.
Cornell, the only one of the three who had seen it, thinks the site succeeds in that regard. "I like the way it lets you target what you're looking for based on what type of diabetes you have, or whether you're newly diagnosed or have been at it for a while," she says. "As someone who was diagnosed seven years ago, I don't want to wade through all of the basics. I want to go straight to something I'm looking for."
This aspect resonates with Morales as well. In her experience as a health coach, "the number-one thing people think they'll enjoy getting is someone meeting them…wherever they are in their journey. It's a lot more appealing for people to have some type of customization."
Indications are that the program is helping people: it's garnered open rates as high as 60%. The site has seen more than half a million visitors, and two million page views, with patients spending an average of nine minutes perusing the material.
There are some pitfalls to trying to speak to both the type 1 and type 2 audiences, though. "On the type 1 side," says Benner, "there's a lot of disappointment throughout the community that there's not a better understanding between the two different diseases."
With type 2 making up about 90% of the cases globally, "If you're trying to service people when they're coming in, you might not want them coming in from the type 1 side feeling like this is a website that's really focused toward the greater number of people."
Patients also suggested that the site's plethora of white space, preference for models vs. real patients, and de-identified format (as opposed to the blog approach of reading someone's personal daily ­experience), could stand some improvement. Morales suggests throwing some real people with diabetes into the mix. "Our presence might make it a more friendly kind of atmosphere."