August 31, 2012
Patient Marketing Report: From A1C to Z
Download:

Patient Marketing Report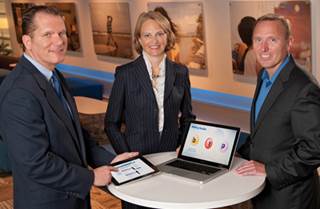 Novo Nordisk's Bob Muha, Amy West and Martin Jernigan
Adherence problems point to patient dialogue failure
A study looking at adherence to statins shows a surprising rationale behind the astonishing number of patients who go off medication.
Nearly two-thirds (62%) of the 10,100 non-adherent US statin users surveyed by Livalo makers Eli Lilly and Kowa said they'd quit taking their meds because of side effects, while 17% cited cost, 12% efficacy, 8% "other" and 6% "I don't know/can't remember." Past studies have indicated that nearly three-quarters of new statin users stop therapy by the end of their first year.
Part of the problem is the asymptomatic nature of the disease, says Lisa Garman, associate marketing director at the Japanese pharma Kowa's US headquarters in Montgomery, AL. "For the most part," she notes, "until you've had an event like a heart attack, you don't feel a lot of symptoms to make you feel like you need to be on a medication."
Another factor Garman cites is the high rate of co-morbidity in hypercholesterolemia patients, over half of whom suffer from other chronic conditions requiring medication. "When you consider that 75% of all drugs are metabolized through this one particular pathway in the liver, you're just upping your odds for a drug-drug, interaction-related side effect," she says, noting that these patients are on an average of three medications. Only 38% said they were worried about potential drug interactions.
Kowa and Lilly developed the survey, dubbed USAGE (Understanding Statin Use in America and Gaps in Education), with the National Lipid Association. They trumpeted the results of the survey with a roll-out featuring John O'Hurley (pictured) of Seinfeld and Dancing With the Stars fame, who was diagnosed with high cholesterol five years ago.
The survey didn't go too far into what specific side effects prompted patients to go off their meds, though it did ask about myalgia, the muscle aches and pains some users experience. But patient concerns about side effects and statins belie another problem, says Judy Spann of the National Lipid Association—poor patient-physician communication. "It really illuminated the need to discuss side effects with patients, because they don't always understand side effects very well, or sometimes there's the possibility of a placebo effect, where they think they're experiencing side effects when they're not and stop taking a medication they really need." Alarmingly, 34% of those who stopped taking their statins said they did so without consulting their doctor.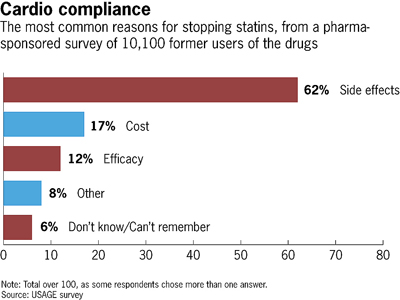 To improve that dialogue around side effects and drug interactions, the survey site, statinusage.com, hosts a medication tracker with a twist—it's organized by physician, so different doctors can see what others have prescribed the patient.
There's also a patient discussion guide and resources aimed at improving patient understanding of the importance of lipid-level measures. Survey respondents were more likely to remember their pant size from high school (64%) than their most recent cholesterol level (46%). Three out of four female respondents could not remember their initial LDL-C readings, and more than half could not recall their most recent LDL-C levels.
The survey showed that patients primarily look to physicians for health info, but it also revealed another weak link in the dialogue. "One of the things we found interesting was the number of patients on statin therapy that rely on their pharmacist to identify those drug-drug interactions," says Lilly's Tina Gaines, communications manager for cardiovascular.
"It illustrates the need to further integrate the entire healthcare system so that the pharmacist, the NP, the physician are working together as a multidisciplinary team, not segmented," says NLA's Spann, "that they're aware of what each patient is taking so that when they're writing a new prescription or filling prescriptions, they have a good sense of how that's going to affect the patient's overall health."