December 01, 2011
Pipeline 2012: Pharma's Front-Runners
Download:

Pipeline 2012A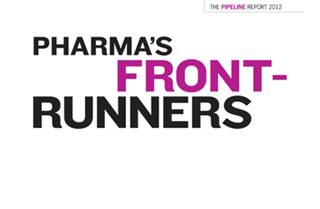 Pipeline 2012: Pharma's Front-Runners
Profiling a dozen agents on deck plus 203 products in the wings, MM&M's Pipeline 2012 sees a year of change. Marc Iskowitz reports
Welcome to MM&M's Pipeline 2012, a guide to late-stage R&D and a tip sheet on what's generating the most buzz in drug development. Scrutinizing the new crop of front-runners, readers may ask themselves: Is the blockbuster still alive?
As pharma troops further into biotech territory, an area often characterized by smaller patient pools and more limited sales, maybe there should be a lesser threshold of commercial success.
Not so fast, says Ben Weintraub, PhD, director of research at Wolters Kluwer inThought. Exhibit A, he says, is Vertex's drug for treating hepatitis C virus, Incivek. Since jumping from the pages of our Pipeline 2011 report to a May approval by the FDA, Incivek is well on its way to making history—reaching a billion dollars in sales by year's end would make it the fastest new product launch on record.
"The idea that the age of the blockbuster is over is definitely not true," Weintraub asserts. While Incivek is no Lipitor, it "still shows that a new drug can get taken up and used, change the standard of care, and make a lot of money."
Huge, chronic markets like diabetes or cardiovascular disease are no longer the only tickets to success. "Now, what you need to become a blockbuster," he says, "is a specialty drug, one that's expensive—to offset the smaller treatment population—but one that fills a significant unmet need."
Among potential blockbusters set to launch in the next few years, several are speciality drugs. In hepatitis C, we may see another one.
Drug developers are getting closer to an all-oral HCV regimen that eliminates the need for injected interferon. The first of these is expected to reach market in 2015. Until then, Boehringer Ingelheim's BI-201335 could make inroads on Incivek and Merck's Victrelis. On similar lines, some are looking for Biogen Idec's BG-12 to unseat Novartis' Gilenya as the preferred oral multiple sclerosis drug.
Among oral small molecules, Pfizer's tofacitinib and AstraZeneca/Rigel's fostamatinib have their sights set on challenging injected biologics in rheumatoid arthritis. There are also expectations that the novel oral anticoagulant Eliquis (Bristol-Myers Squibb/Pfizer) could be the third such agent approved and make a serious bid for cardiologists' Rx pads, although inexpensive warfarin could curb sales.
In addition to the infectious disease, neurology, rheumatology and cardiovascular sectors, this report dives into oncology, where the big story is the recent slate of personalized medicine approvals: BMS's Yervoy, Pfizer's Xalkori and Roche/Plexxikon's Zelboraf. In these pages you'll read about other biologics being developed for targeted lines of tumor treatment. Metabolic and orphan therapies, plus respiratory and women's health, are highlighted in the report, too.
Consistent with our methodology the last several years, top picks are based on consultation with Wolters Kluwer inThought, Adis R&D Insight, GfK HealthCare and other experts. Each profile has a snapshot of safety and efficacy data vs. the standard of care and, where available, the estimated month of approval, plus a quick way to gauge the likelihood of an FDA OK called the inThought Approvability Index (anything above 50% stands a good chance). Rounding out the report are analyst comments, revenue forecasts and lists of other key products.
Next page: Cardiovascular products