December 01, 2011
Pipeline 2012: Pharma's Front-Runners
Download:

Pipeline 2012A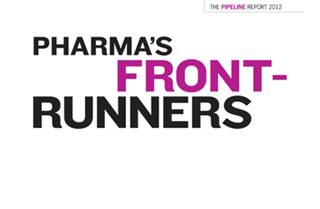 Pipeline 2012: Pharma's Front-Runners
Cardiovascular
PRODUCTS GENERATING BUZZ
Dalcetrapib
Roche
Indication: Atherosclerosis (Phase III)
What the clinical trials found: In the Phase IIb Dal-vessel trial, ­dalcetrapib raised HDL cholesterol levels 31% vs. placebo without any of the off-target effects that troubled torcetrapib, an earlier CETP inhibitor that Pfizer pulled from testing due to a higher death rate. In the Dal-plaque trial, dalcetrapib beat placebo on some measures of plaque burden.
inThought Approvability Index and Comment: 53%. Raising HDL is a good thing, but CETP inhibition is risky. And Roche, while it has a lead on Merck's Phase III CETP inhibitor anacetrapib, may be at a disadvantage compared to its rival because it does not significantly lower LDL cholesterol. Anacetrapib does so while impacting HDL to a greater degree. Large-scale clinical outcomes trials, under way now, will determine whether the difference is meaningful. Estimated approval: October 2013 (Source: Wolters Kluwer inThought).
Revenue forecast: If it works, huge.
What the analysts are saying: Physicians may view dalcetrapib as significant because it does two things, increases HDL and alters the morphology of plaque. Statins and fibrates will be left in the dust—we take them to improve LDL, but they don't do much for HDL, and fibrates can cause changes in blood sugar and are not good for patients with diabetes, who often have these other risk factors. The Dal-outcomes study will be the litmus test in terms of whether this agent has an impact in the CV world. —Portia Gordon, VP, research & consulting, GfK HealthCare
Eliquis (apixaban)
Bristol-Myers Squibb/Pfizer
Indication: DVT; stroke prevention in Afib (Preregistration)
What the clinical trials found: In the Aristotle Phase III trial, apixaban showed a 21% reduction compared to warfarin in the primary endpoint of stroke or systemic embolism, an 11% reduction in mortality and a 31% reduction in major bleeding. Neither of the novel oral anticoagulants on the market—J&J/Bayer's Xarelto (rivaroxaban) nor Boehringer Ingelheim's Pradaxa (dabigatran)—can match it in overall mortality or safety.
inThought Approvability Index and Comment: 92%. Oral anti-coagulant Eliquis looks set to be a blockbuster, despite two other novel oral anticoagulants already available. Estimated approval: March 2014 (Source: Wolters Kluwer inThought).
Revenue forecast: $2 billion in 2015, says Sanford Bernstein's Tim Anderson; $4.2 billion in 2017, says Leerink Swann's Seamus Fernandez.
What the analysts are saying: With BI's Pradaxa and J&J/Bayer's Xarelto now approved in SPAF, the best Eliquis can be is third to this market. In order to get on formularies, Eliquis will need to show not only clinical ­superiority but be competitive in terms of price. To rise above Pradaxa, Xarelto and warfarin (and be compelling to payors), Eliquis needs to duplicate trial results as being better for stroke, bleeding and mortality in atrial fibrillation. Still, if physicians become comfortable using one of the other warfarin replacement agents and see good results, this could be a problem for Eliquis. Warfarin, available for pennies a day, will keep some share. —Portia Gordon, VP, research & consulting, GfK HealthCare
KEY CARDIOVASCULAR PRODUCTS IN THE PIPELINE:
To see this extended list of other key Cardiovascular products in a separate window, click here:
Pivlaz Actelion
Cerebral vasospasm (Ph. III)
Imagify Acusphere
Vascular disorders diagnosis (Prereg.)
Gencaro ARCA
Heart failure (Prereg.)
Desmoteplase Bayer Schering
Stroke (Ph. III)
Generx Cardium Therapeutics
Myocardial ischaemia (Ph. III)
Stedivaze Clinical Data
Coronary disorders (Ph. III)
Edoxaban Daiichi Sankyo
SPAF (Ph. III)
Tafamidis FoldRx
Cardiomyopathies (Ph. III)
Apadenoson Forest
Coronary disorders (Ph. III)
Azimilide Forest
Ventricular arrhythmia (Ph. III)
Darapladib GlaxoSmithKline
Heart attack prevention (Ph. III)
Flurpiridaz F-18 Lantheus
CAD diagnosis (Ph. III)
Cangrelor The Medicines Co.
Ischaemic heart disorders (Ph. III)
Anacetrapib Merck
Heart attack prevention (Ph. III)
MK-0524A Merck
Heart attack prevention (Ph. III)
MK-0524B Merck
Heart attack prevention (Ph. III)
MK-0653C Merck
Atherosclerosis (Prereg.)
Vernakalant Merck
Afib (Prereg.)
Vorapaxar Merck
Thrombosis (Ph. III)
LCZ 696 Novartis
Heart failure (Ph. III)
CorVue Pfizer
Cardiovascular disorders (Prereg.)
Betrixaban Portola
SPAF (Ph. II)
Stedicor Procter & Gamble
Ventricular arrhythmias (Ph. III)
Aleglitazar Roche
CV risk reduction (Ph. III)
Otamixaban Sanofi
ACS (Ph. III)
Semuloparin Sanofi
Thromboembolism (Ph. III)
Temusi Sanofi
Peripheral arterial disorders (Ph. III)
Defibrotide Sigma-Tau
VOD (Ph. III)
Azilsartan/chlortalidone Takeda
Hypertension (Ph. III)
Neucardin Zensun
Heart failure (Ph. III)
Next page: Infectious Disease products