December 01, 2011
Pipeline 2012: Pharma's Front-Runners
Download:

Pipeline 2012A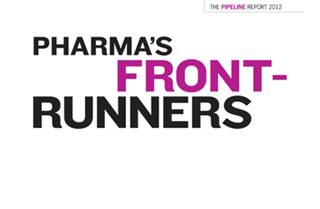 Pipeline 2012: Pharma's Front-Runners
Rheumatology
PRODUCTS GENERATING BUZZ
Tofacitinib Pfizer
Indication: Rheumatoid arthritis/plaque psoriasis (Phase III)
What the clinical trials found: Data from a Phase III trial testing tofacitinib vs. Abbott's self-injectable Humira support this oral drug's clinical potential: ACR20: 47%; ACR50: 28%. In response, Humira has claimed ACR20: 65%; ACR50: 52%. Safety appears comparable to that seen with approved RA biologics, although there was a doubling in the rate of infections in the long-term extension studies with the 10mg vs. 5mg dose and possible renal effects. With a broad range of immunosuppresive properties, tofacitinib is being studied in several autoimmune conditions in addition to RA, including ankylosing spondylitis, ulcerative colitis, psoriasis, psoriatic arthritis and organ transplant rejection.
inThought Approvability Index and Comment: 85% (RA). This JAK inhibitor's oral formulation hits an unmet need in RA. Due to adverse events, our research suggests the drug will be most often used after at least one tumor necrosis factor (TNF) inhibitor. Dosing advantages aside, it won't replace the TNF inhibitors, but it will push back use of other biologics. Estimated approval: 2H 2012 for RA, followed by other indications (Source: Wolters Kluwer inThought).
inThought revenue forecast: $1.7 billion in peak sales by 2017
What the analysts are saying: The wave of Phase III reporting by Pfizer appears very positive with efficacy in line with current self-injectable treatments like Humira, with a possibly equal or somewhat better side effect profile. It looks like this will be the first oral treatment to market and an option that compares well against the current therapies. From that standpoint, it should do exceptionally well. —Geoff Penney, VP, research and consulting, GfK HealthCare
Fostamatinib (R788) AstraZeneca + Rigel
Indication: Rheumatoid arthritis (Phase III)
What the clinical trials found: In a three-month Phase II trial, this oral Syk inhibitor was shown to be safe but not effective in RA patients unresponsive to biologic agents. In a six-month Phase II study, it met a primary signs and symptoms efficacy endpoint with responder rates of ACR20: 67%; ACR50: 43%. In the Phase III program, two 12-month studies will test fostamatinib in patiens responding inadequately to disease-modifying antirheumatic drugs (DMARDs) including methotrexate, and a six-month study will assess fostamatinib in patients who have previously responded inadequately to anti-TNF therapy.
inThought Approvability Index and Comment: 55% (RA). A second oral kinase inhibitor behind tofacitinib, fostamatinib should take some of the $23-billion worldwide market for DMARDs. It may also expand the market on the back of the substantial number of patients who are candidates for biologics but don't use them because of injection fears. Estimated approval: 2014 (Source: Wolters Kluwer inThought).
Revenue forecast: $1.3 billion in peak sales by 2017, says Collins Stewart's Salveen Richter
What the analysts are saying: The jury is still out. We are looking to early Phase III trials (which started at the beginning of 2011) to dispel the more disappointing findings seen in Phase II. But at that point, it does become an issue of second-to-market and what opportunities can AZ/Rigel exploit given Pfizer/tofacitinib's first-to-market status. Once-a-week, twice-a-week and once-a-month injection therapies will still hold appeal, particularly for physicians, despite the pressure from patients to try a needleless option. And research suggests the I.V. and self-injection therapies will continue to be cost competitive, especially given the heavy use of co-pay cards and other patient support programs, so there will be serious cost pressures on both these oral therapy brands when they reach market. —Geoff Penney, VP, research and consulting, GfK HealthCare
KEY RHEUMATOLOGY PRODUCTS IN THE PIPELINE

To see this extended list of other Rheumatology products in a separate window, click here.
Hydrocodone/paracetamol-controlled release Abbott
Osteoarthritis (Prereg.)
Apremilast Celgene
Psoriasis (Ph. IIII)
Psoriatic arthritis (Ph. III)
LY2439821 (ixekizumab) Eli Lilly
Rheumatoid Arthritis (Ph. III)
Psoriasis (Ph. II)
Tabalumab (LY 2127399) Eli Lilly
Rheumatoid arthritis (Ph. III)
Lupus (Ph. III)
Linaclotide Forest
IBS (Prereg.)
Traficet-EN (1605786) GSK
Crohn's disease (Ph. III)
Lodotra Horizon/SkyePharma
Rheumatoid arthritis (Prereg.)
IP 880 Iroko
Osteoarthritis (Ph. III)
IP 889 Iroko
Osteoarthritis (Ph. III)
Arcoxia (etoricoxib/MK 663) Merck
Rheumatoid arthritis (Ph. III)
Ankylosing spondylitis (Ph. III)
MK-3222 Merck
Psoriasis (Ph. II/III)
Naproxcinod NicOx
Osteoarthritis (Prereg.)
Calcitonin oral (SMC 021) Novartis
Osteoarthritis (Ph. III)
Secukinumab (AIN-457) Novartis
Psoriasis (Ph. III)
Psoriatic arthritis (Ph. III)
Rheumatoid arthritis (Ph. III)
Sarilumab (REGN-88) Regeneron
Rheumatoid arthritis (Ph. III)
Ankylosing spondylitis (Ph. III)
Actemra (tocilizumab) Roche
Rheumatoid arthritis, subcutaneous form (Ph. III)
Vedolizumab (MLN0002) Takeda
Ulcerative colitis (Ph. III)
Crohn's (Ph. III)
VX-509 Vertex
Rheumatoid arthritis (Ph. II)