November 30, 2012
Professional Media briefs: December 2012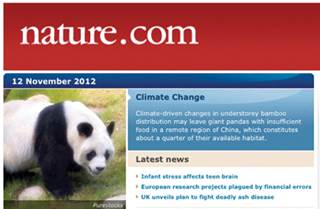 Wiley has announced a deal with the Sheridan Press that gives its online-only journals a retro twist. The agreement makes the digital-only journals available in print through a print-on-demand feature. The deal, which goes into effect in January, will make 145 titles available in printed form.
Nature Publishing Group is giving readers greater insight into what the community is into. The publisher announced that it will be including information such as page views, citation data, media mentions, blog posts and social media shares for articles that are published under the Nature, Nature research journals and Nature Communications imprints. These social metrics will be shown for articles published since 2011.
The American ­Society of Plastic Surgeons
kicked off two projects to expand the reach of its research through an information exchange between its publication
Plastic and Reconstructive Surgery
and the journal of the Brazilian Society of Plastic Surgery,
Revista Brasilieria de Cirugia Plastica
. ASPS also announced it was creating an international open-access journal called
Plastic and Reconstructive Surgery-Global Open
. Both start in 2013.
Scroll down to see the next article