January 01, 2015
Purdue CCO makes a drive for diversity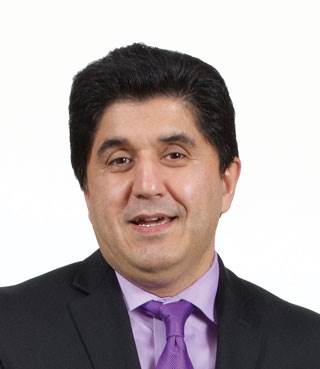 Prior to Saeed Motahari's arrival at Purdue Pharma last May, the company had never counted a chief commercial officer among its C-level personnel. This isn't to say Purdue let the functions usually overseen by a CCO go unmonitored, but there was never a single individual managing and massaging them on a day-to-day basis. Bringing Motahari into the fold, then, might have been interpreted as a sign that something within Purdue's commercial operations wasn't clicking the way it should. Which couldn't be further from the truth. Purdue remains one of the pharma industry's first names when it comes to pain (the therapeutic category, that is). It appeared on track as of mid-December to notch another highly successful and profitable year. Motahari thus finds himself in the enviable position of "fixing" something that isn't actually broken.
That opportunity was among the reasons that Mota­hari, a 22-year healthcare veteran, chose to join Purdue. Previously an exec at Bristol-Myers Squibb (where he worked on HIV and cancer brands) and AbbVie/Abbott (where he headed several functional areas, among them sales and marketing for specialty brands), Motahari sees company-wide commercial alignment as one of his most pressing tasks.
"You can have the right strategy, the right talent, the right product, the right investment—all those things can be in place, but they don't guarantee success unless they're in alignment with one another," he explains. "We've been very successful, but we needed to be more aligned around what's happening externally."
To that end, a second immediate goal is to maximize the potential of Purdue's existing assets. Motahari specifically mentions Butrans—up 24% in scripts year-over-year through November—and OxyContin as products that he believes have life left in them. He is similarly excited about the company's launch of Hysingla ER, set for later this month. While he declines to reveal strategic or tactical specifics, he confirms the obvious: that Purdue plans to throw its marketing heft behind the imminent launch.
"From our perspective, Hysingla ER will provide a significant, meaningful choice for patients who have pain on a chronic basis. We are crystal clear on how to position this product versus the other products we have," he says.
A third item on Motahari's to-do list, and one that has piqued industry curiosity, is diversification of Purdue's product slate. He stresses Purdue's commitment to the pain-management space but acknowledges that it is actively seeking out new opportunities. "We're looking at some areas with natural synergistic parameters to pain, as well as areas in which we believe we can bring significant value to our customers," he says.
To help him execute this ambitious slate of activities, Motahari has made personnel a priority. Recent additions include VP of marketing and managed markets Mary Ogle, previously a marketing VP at Teva; VP of sales Lisa Pilla, a Novartis and Ipsen alumna; executive director, marketing David Xu, who arrives from Sandoz; head of commercial operations John Bujnoski, most recently of Pfizer's European Enbrel team; and executive director, managed markets marketing, strategy & pharmacy and distribution Stella Kadatskaya, previously at Merck. Paired with a handful of existing Purdue execs, the quintet have joined with Motahari to lead the company's Commercial Excellence Initiative.
"We had many great people already, but we needed to add more diversity of skills to our talent base," Motahari says.
Up next for Motahari and Purdue: more realignment, more transformation and more A-list hires. Motahari admits that one of the reasons he finally relented in the face of tens of interview requests from this publication was to get the word out about the changes taking place at Purdue.
"I thought maybe this could be a vehicle to tell our story," he says brightly. "I think people might start looking at Purdue a little differently." —Larry Dobrow
Scroll down to see the next article