April 14, 2015
Shwen Gwee, Associate Director, (Global) Digital Customer Engagement, Biogen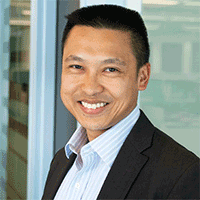 Shwen Gwee

, Associate Director, (Global) Digital Customer Engagement, Biogen

Shwen brings over a decade of experience in digital strategy, social media and pharmaceutical marketing/communications, both on the client-side and at leading agencies, and across consumer and professional verticals. In his various professional roles, he has served as:

PRACTICE LEAD:
Leading the digital/social practice, building the team and growing business; establishing new partnerships, services and IP; developing integrated organizational workflows.

GLOBAL CONSULTANT:
Advising teams and clients across the globe, including UK/EU, Latin America, and Asia.

INNOVATOR:
Developing and implementing creative new (digital) services; identifying and establishing partnership opportunities; working closely with health-tech startups and e-Patient influencers.

THOUGHT LEADER:
Meeting with internal leadership and digital/marketing/legal/etc. teams to present expert opinion and identify digital/social media needs; regularly featured in industry conferences and publications.

Shwen is a well regarded pioneer in Digital Health and Social Pharma, who was recently recognized as a "Top 40 Healthcare Transformer" by MM&M (2015). He has played chairing roles at Digital Pharma East since 2009 (including Social Innovation Day in 2014) and ALI's "Social Media and Multi-Channel Marketing for Pharma" since 2013.

He also sits on a a number of advisory boards, including: Google (Healthcare), South by Southwest (SXSW), Digital Health Coalition and Medical, Marketing and Media, among others.

Shwen's experience was forged on the "client-side" of pharma, where he was directly involved in over three Rx brand launches during his 7 year tenure inside pharma, as well as the commercialization of a company as it prepared to market and sell its first drug.

Shwen further honed and refined his skills as a digital strategist and social media thought leader on the agency-side, where he has worked with most of the top 10 global biopharmaceutical companies, mid-sized organizations and startups.
Scroll down to see the next article