May 01, 2015
SkillSets: Cello Health Communications
Download:

SkillSets Cello.pdf
Cello Health Communications combines science, strategy and creativity to unlock evidence and drive differentiated engagement solutions for a diverse mix of clients in the biopharmaceutical, device and diagnostic sectors.We offer a range of scientific, medical and healthcare communications services, including landscape analysis and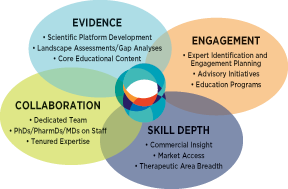 assessment, strategic communications planning, audience identification and engagement, medical education programming, medical marketing and training solutions for field sales and MSL programs.
Cello Health Communications is composed of the Evidence practices MedErgy and SciFluent, as well as an Engagement practice focused on leveraging foundational evidence to inspire outcomes-focused behavior change. It is an integral component of Cello Health, which has a unique mix of capabilities and also includes Cello Health Insight (global market research) and Cello Health Consulting
EVIDENCE
• Scientific Platform Development
• Landscape Assessments/Gap Analyses • Core Educational Content
COLLABORATION
• Dedicated Team
• PhDs/PharmDs/MDs on Staff
• Tenured Expertise
COMPANYINFO
Address: 790 Township Line Road, Yardley, PA 19067 Phone: 215 504 5082
Website: www.cellohealth.com
New Business Contact: Suzann Schiller, Executive Vice President, Strategic Collaborations
Year Founded: 2002
Office Locations: Philadelphia, New York City, Chicago and the UK (strategic marketing consultancy). As a collaborative group, Cello Health helps clients unlock the potential of their assets, brands and organizations.
We help clients build a foundational evidence base and translate that into outcome-focused behavior change. The initiatives that we develop define the strategic challenge, create differentiated positioning, optimize brand value propositions and engage influencer audiences in a unique manner, challenging them to "do something different." Our deep understanding of the scientific evidence behind molecules enables us to evaluate and apply core clinical data sets and other insights within a strategic framework to support and drive clinical and commercial success.
Scroll down to see the next article