December 01, 2014
The Pipeline Report 2015: Dream Drugs
These 16 sprouts, from a field of 156, are looking up. With more nurturing, their buds could blossom. Marc Iskowitz reports
Pipeline Report 2015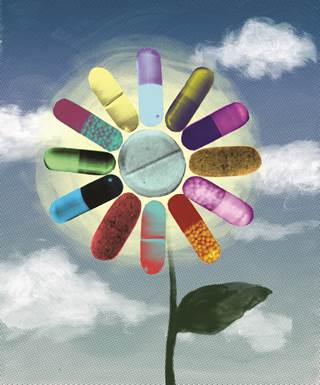 The Pipeline Report 2015: Dream Drugs
When the dust settles on another year and analysts take stock, 2014 is set to go down as one of the most interesting in terms of R&D productivity—not just how many drugs the FDA sanctioned, but how valuable they prove commercially.
Thank Gilead's Sovaldi for that. The drug for hepatitis C virus became a blockbuster in record time while raising cure rates, and its recently approved hep. C cousin Harvoni is poised to do well as it sheds ribavirin and interferon from treatment regimens. AbbVie has another interferon- and ribavirin-free regimen waiting in the wings.
The hep. C progress is evidence of one type of industry innovation: "the good old-fashioned wizardry of attacking big problems with big solutions," says Mike Luby, founder, president and CEO of BioPharma Alliance. Others are on the horizon. In the oncology pipeline are PD-1/L1 inhibitors from Bristol-Myers Squibb and AstraZeneca. In neurology, firms are testing BACE inhibitors against Alzheimer's, and in respiratory, investigational drugs from GlaxoSmithKline, Roche and Novartis could lower the steroid burden for patients with severe asthma and COPD.
A second kind of advance has been evolutionary: finding solutions for patients, physicians and payers in what seemed satisfied markets. That's where products and new classes of drugs have led to advances in therapeutic categories, some thought to already be well-served.
Luby points to cardiology as one such category: ACE inhibitors like Vasotec have been mainstays of treating heart failure. New research shows that by switching patients from an ACE inhibitor to Novartis's LCZ696, survival is prolonged.
In the cholesterol area, statins were once reserved for more severe cases. Now, the PCSK9 inhibitors from Amgen and Sanofi/Regeneron may be approved for hard-to-treat patients—and could move into a less and less reserved position. Results of Merck's IMPROVE-IT trial, released last month, "support the notion that the goalposts will move over time, as the science shows greater benefits," says Luby.
It's hard to call psoriasis a satisfied market, although anti-TNFs Enbrel and Humira changed the treatment paradigm, as did IL-12 drug Stelara. Now, Amgen/AstraZeneca, Eli Lilly and Novartis are working on IL-17 drugs that could raise the bar further in psoriasis.
And in diabetes, the GLP-1 and SGLT2 drugs gave doctors new ways to treat this epidemic. Once-weekly versions of some of these same products have altered the patient experience.
In addition to the autoimmune, cardiology, infectious disease, oncology and respiratory sectors, the following pages highlight promising orphan therapies, and outline late-stagers in the metabolic, neurology and women's health areas, and some in other stages. (At press time, Sanofi's Lemtrada received approval for MS, but had yet to launch.)
THERAPEUTIC CATEGORIES
Profiled agents are based on consultation with inThought, Adis R&D Insight, GfK HealthCare and other experts. Original analysis reflects the latest data sets (as of press time), and is complemented by revenue forecasts, lists of other key products and, where available, the estimated month of launch, plus a percentage giving an indication of the likelihood of success (anything over 50% stands a good chance).