October 01, 2013
Workplace Culture: The Newlywed Game
Download:

Newlywed Game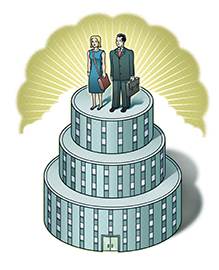 Workplace Culture: The Newlywed Game
How staff worked through corporate change
When agency executives discuss merger/acquisition activity, they do so from a position of knowledge: they know (or at least claim to know) how the two entities will come together as one, what personnel adjustments will be necessitated and who will work where. But for the other people directly affected by the deal—the staffers from both sides who, in the wake of a merger or acquisition announcement, are sentenced to the purgatory of waiting to see whether their jobs will still exist, or if they'll have to armwrestle a similarly situated professional peer for a particular set of responsibilities—such corporate endeavors prompt far more anxiety.
At the same time, change often breeds opportunity. So it's instructive to check in with two agency soldiers— Dan Gilkison, group director, operations at W2O Digital, and Angela Cua, ­associate creative director at GSW—to see how they rolled with the corporate changes that recently came their way.
Gilkison says he was "essentially the COO" at VM Foundry, one of the firms snapped up by W2O during the last year. As such, he had some idea that an acquisition might be in the works—which isn't to say that he was entirely prepared for the change to come.
Gilkison didn't wait around to see what would happen. "I worked quickly to determine the reporting structure and who would be my direct manager," he says, recommending that others in a similar position adopt a comparable approach. "Knowing early on who I was to be coordinating with day-to-day made the transition easier."
He adds that, nine months after the fact, W2O's purchase of VM Foundry remains "a work in progress"—and that for any staffer hoping to pursue post-merger or -acquisition opportunities, no deal should ever be considered 100% closed. "'Evolve or die' is one way to look at it philosophically."
Cua agrees that change isn't an overnight process, or even one that automatically plays out over a set period of time. When her firm, Blue Diesel, announced plans to merge with fellow inVentiv Health agency GSW Worldwide, she put aside her anxiety and tried to focus on the positives.
"I knew with a larger organization there would be many opportunities for career growth as well as more talent and diverse personalities to meet and partner with," she recalls. "The accounts would be larger and budgets and resources would be greater."
Unlike Gilkison, however, Cua reports that there were some bumps in the road. "Things really did change," she acknowledges. "The blend of two working styles didn't come to fruition." As a result, she stresses that anyone caught up in a rocky transition keep an open mind, even if the post-merger or -acquisition situation doesn't immediately conform to expectations.
"Be your own judge based on your own interactions. Despite the changes that were occurring, I was very encouraged and optimistic when I was immersed in projects that involved both organizations," she says.
Cua adds that lapses in communication can hamstring any merger or acquisition, especially for individuals primed to pounce on the opportunities that become evident. She puts the burden, at least in part, on management: "If there is no connection to the new organization, feelings of doubt and uncertainty grow…Frequent status reports and information eases everyone into the unknown."