June 12, 2014
The stage is set... almost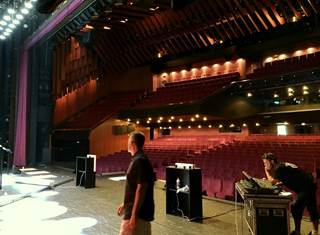 The stage is set... almost

The Debussy Theater at Palais des Festivals is a hive of activity this morning in preparation for tomorrow's opening day of the Cannes Lions Health Festival of Creativity in Healthcare Communications. Kicking off the two-day program of seminars is former Procter & Gamble CMO Jim Stengel. Flanked by Publicis Healthcare heavyweights Nick Colucci and Alexandra von Plato, Stengel will discuss the unique growth opportunities for businesses that focus on improving people's lives. Next up, Klick founder and CEO Leerom Segal and Acorda Therapeutics founder and CEO Dr. Ron Cohen will make the case for data being the new creative. And then I have the thrill and honor of taking the stage with a trio of current industry stars - Alison Woo (Bristol-Myers Squibb), Matt Brown (ICC Lowe) and Wendy Blackburn (Intouch Solutions) - to discuss the ups, downs, ins and outs of the agency-client relationship. If you're in town, check out our session and say hi.

Click here for the complete Friday agenda.