October 19, 2017
GOLD | Professional Sales Tool of 2017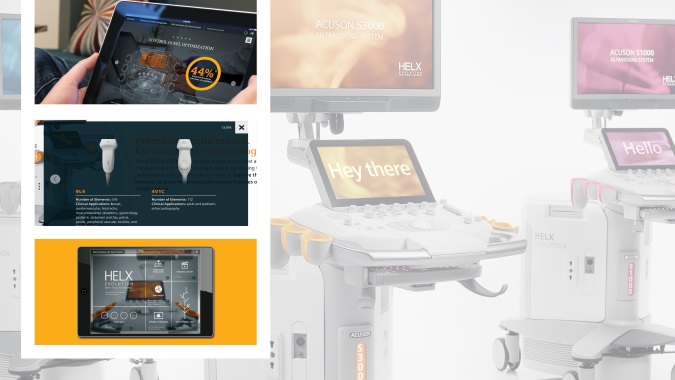 2e Creative and Siemens Healthineers
Helx Evolution Sales App
---
This app solved several problems and helped drive a significant sales increase for Siemens' Helx Evolution ultrasound system. First, the app gives Siemens' sales force team easy access to all sales content from any device. It also gives reps the power to let HCPs experience one of the system's biggest benefits and points of differentiation — its highly responsive touchscreen interface.
"This app is the best thing I've seen all day," said one judge.
"Smart use of insights led to a great product," noted a second judge. "Well done."
Working with the Siemens sales team, 2e learned that field reps wanted easily accessible collateral and sales tools. With that, 2e worked on a Helx system, aided by a sonographer, to come up with the idea to use the app to mimic the system's touchscreen capabilities and to create a workflow simulator.
The features allow HCPS to test drive the ultrasound machine without the reps having to tow around large devices.
2e Creative wasn't initially hired to create a sales tool. Rather, Siemens asked the agency increase awareness and sales. Extensive interviews with the sales reps revealed the challenge was not rooted in the Helx Evolution system. Rather, it was in the existing sales tools. In addition to the web-based app, the agency developed an offline model for continual access.
Given the app's success, Siemens requested multiple evolutions and additions to the platform. Sales for the Helx Evolution continue to climb aggressively, helping to even create a positive impact to Siemens market valuation.