Upcoming Skill Sets Live
Enhancing Multichannel Marketing


Messaging in Support of Pharma's Paradigm Shift




Thursday, March 12
8:30 am - 1:00 pm
Convene, 101 Park Avenue, NYC


Buy Your Ticket Today & Get 1 FREE!
Pharma brands' less-than-stellar engagement levels in the digital sphere indicate a need to align better with audiences. What do patients and HCPs want? Information and services to help manage their health, according to research. To seize this opportunity, pharma is slowly moving toward a new, broader paradigm in which it offers a more all-encompassing suite of value-based programs. Multichannel marketing, with the continual rise of digital merging with traditional channels, can facilitate this paradigm shift by providing the relevant interactions audiences crave in order to improve outcomes.


Topics to be covered include but are not limited to:
-Creating compelling healthcare content that serves audiences and builds loyalty
-Regulatory guidance in conjunction with new media channels and how to integrate them into the marketing mix to drive better consumer experiences
-Shifting approaches and executions for marketing and building your brand through culture and structure
-Safe use of social media: are AEs a brand killer for pharma?
-Case studies along with expert advice


Key Takeaways:
-How to partner with compliance officers to conduct state-of-the art marketing
-The importance of insight into customer needs and where they are in the path to purchase
-Practical use cases involving pharma brands
-The latest thinking in integrated marketing from experts in both the pharma and agency worlds
Registration Information
About Skill Sets Live
Skill Sets Live is a series of live, half-day events, comprising presentations and discussions focused on specific disciplines within pharmaceutical/healthcare marketing and communications. Prominent speakers from across the industry will share their insights, observations, best practices and advice with a live audience of pharma brand managers/marketers, agency professionals and healthcare media executives. The goal is to provide attendees with a platform to increase their knowledge in key areas of healthcare marketing and communications and to provide a forum for networking and sharing information.
Event Sponsors



TAKE-AWAYS FROM SKILL SETS LIVE

If you missed any of MM&M's Skill Sets Live events, we're now giving you a second chance to get up to speed, with insightful e-books on each event, with all the key take-aways.
Click on any cover below to get the information from each event.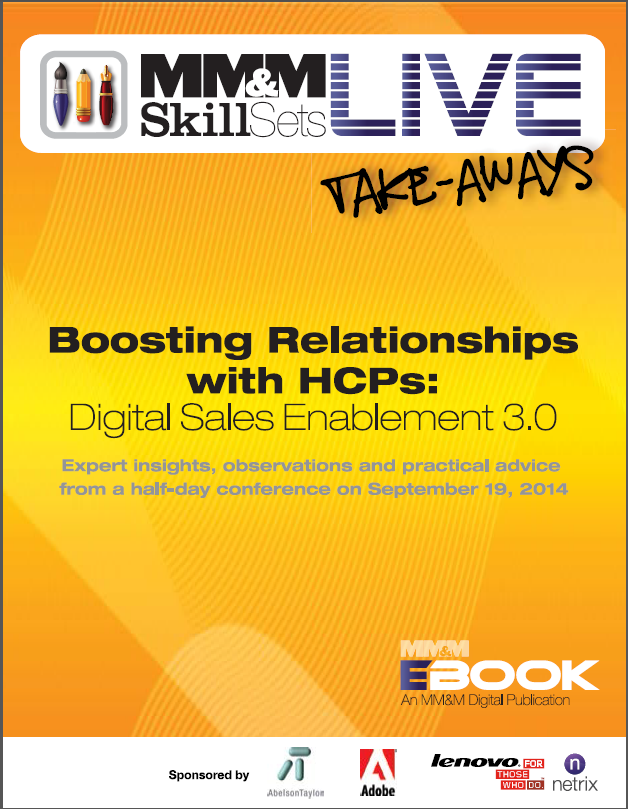 SKILL SETS LIVE: DIGITAL SALES ENABLEMENT 3.0

SKILL SETS LIVE: CONTENT MARKETING FOR HEALTHCARE

SKILL SETS LIVE: TURNING BIG DATA INTO DEEP INSIGHTS
EMAIL NEWSLETTERS
Check out what's trending