October 02, 2017
How Can Marketers Get More from Their Agency Before, During and After Brand Planning?
We're approaching the fourth quarter, which means brand managers across the country are currently trying to remember where they saved this year's tactical plan so they can recreate it for next year. It's a vicious cycle: brand managers are tasked with creating the most innovative, cutting-edge, [enter other buzz-word here] tactical plan ever. They pull together all the right people, all the right data and all the right ideas to craft a brilliant, 115-page document that should guide the brand over the next year. For a short time, this plan becomes the brand's playbook, referenced and loved by all. But as time passes, stakeholders reference the plan less and less, and the brand plan is left in a forgotten corner of a desktop or server, not to be opened again... until the next fourth quarter.
Does this cycle sound familiar? Brands, agencies and other partners all start the year intent on following a carefully designed plan, driven by data and fueled by creativity. And then life happens. A new competitor hits the market; new information about your disease state becomes available; your field force needs a new approach. There are 100 different reasons brand plans fall by the wayside.
So how do brand managers work with their agencies to develop plans with staying power, plans that will stay relevant longer, that are scalable with the ever-changing landscape, but still meet business objectives?
To help answer this question and more, we conducted a third-party survey among healthcare marketers to better understand their agency expectations during and after the planning process. One of the respondents' biggest frustrations during yearly planning was their agency partner not building tactics and strategies around their long-term business objectives. And while it was their key frustration, survey respondents also indicated the criticalness of their agency's ability to understand key objectives in delivering results.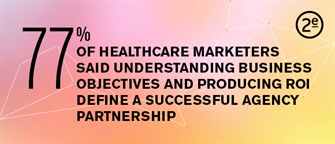 In a recent survey, when asked what defines agency success, healthcare marketers weighed ROI and meeting business objectives higher than award-winning creative or great communication.
So, how can agencies and brand partners best support each other throughout the tactical planning process, knowing that long-term relevance and understanding business objectives are key? Using these five points as your guide, challenge your agency and allow them to come fully prepared and elevate your brand to new heights in 2018.
Stop thinking about digital separately. There is no longer a line between digital and traditional tactics, so you shouldn't design your plans that way. Digital initiatives should be fully baked into your strategic approach for the year, not added on. Challenge your agency to understand how digital is holistically integrated into the bigger engagement strategy across your target audiences.
Go against the marketing trends. Before the year is even over, third party groups will release marketing trends for the upcoming year, and they will undoubtedly urge marketers to adopt said trends. Don't take the "everybody's doing it" approach. Instead, ask how these trends align with your target audience, patient journey and objectives. If there isn't a really good reason to pursue a trend, don't be afraid to say no.
Engage with sales early. Consider using brand planning to change the dynamic between marketing and sales. Does your agency have a relationship with your sales leaders? Are they a part of your planning process (hint: they should be; no one knows your clients better)? Make introductions and challenge your agency to use insights from sales to build tactical strategies. Once campaigns are in market, you will see stronger sales engagement and better market adoption, resulting in a longer shelf life for your plan.
Regulatory + Agency = BFF. Picture this: you and your agency have spent the last two months building a brand plan you're proud of and that you believe will undoubtedly reenergize the brand. You send it to your regulatory team for approval and they shut it down immediately. Before the planning process even begins, ask: is your agency a compliance expert? What is their level of expertise regarding FDA guidelines? More importantly, do they know and understand what to watch out for with your specific regulatory team? If they aren't already, push your agency to be your regulatory champion to help you avoid the headaches and heartaches of compliance.
Don't stop at planning. As the year goes on, do you have a cadence with your agency to measure, analyze and adjust your strategy? Is your agency sharing insights on market influences, audience trends or campaign performance? If not, establish quarterly meetings of the minds between you, key influencers (hello sales!) and your agency. Pull that tactical plan off the shelf, ask your agency to bring actionable insights to the discussion and then, as a team, adjust your plan. Rinse and repeat every quarter.
To hear more about what healthcare marketers expect from brand planning and agency relationships — along with what they think the word "agency" even means — visit 2ecreative.com/Survey.