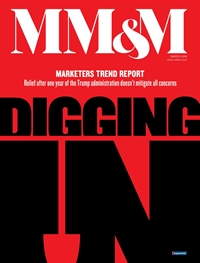 "Payers, providers, and patients still have the same foundational need: How do I deliver or support healthcare products and services in the simplest and most cost-effective manner for patients that results in optimum wellness? That patient focus should 'trump' any political or other market factors and drive our industry to continue to innovate our products, services, partnerships, and go-to-market strategies."
Jeff Rummer
Director of global marketing operations,
Medtronic
The 2018 MM&M Marketers Trend Report
Pharma marketers managed to fly under the radar during the first year of the Trump administration. Was their good fortune reflected in the dollars allocated for marketing programs? The most recent edition of one of MM&M's flagship research projects headlines the March issue.
CLICK HERE for "Digging In: Marketers Trend Report 2018" and other content from the March 2018 issue, including: