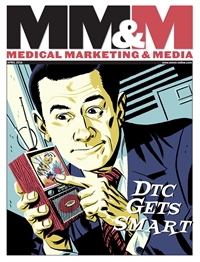 "We've started
to treat print
and TV as noise in
the background"
A.J. Triano
VP, Connected Health
Palio+Ignite
DTC gets smart
Prime-time TV commercials targeting millions of consumers are no longer representative of the future of pharmaceutical advertising. Smart marketers are thinking outside the tube and experimenting with video, gaming and mobile initiatives. Larry Dobrow reports
CLICK HERE for full coverage of MM&M's DTC Report from the April 2014 issue, including:
Expert interviews and commentary from:
Brad Sippy, VP, Marketing, Sunovion
Anush Prabhu, Chief Channel Planning and Investment Officer, Deutsch
A.J. Triano, VP, Connected Health, Palio+Ignite
David Adelman, Founding Partner, Moddern Marketing
Harry Wang, Director, Health and Mobile Product Research, Parks Associates
Holly Dunn, Client Director, Digital Investment, Initiative
Mike Rutstein, Founder and CEO, Strikeforce Communications
Brad Adgate, SVP, Research, Horizon Media
The latest DTC data from Nielsen, including:
Total DTC Spend, 2009-2013
Top 20 Companies by DTC Spend, 2013
Top 20 Brands by DTC Spend, 2013
DTC Spend by Media Channel, 2013
Plus a special feature on the 10 Riskiest DTC Ads Ever!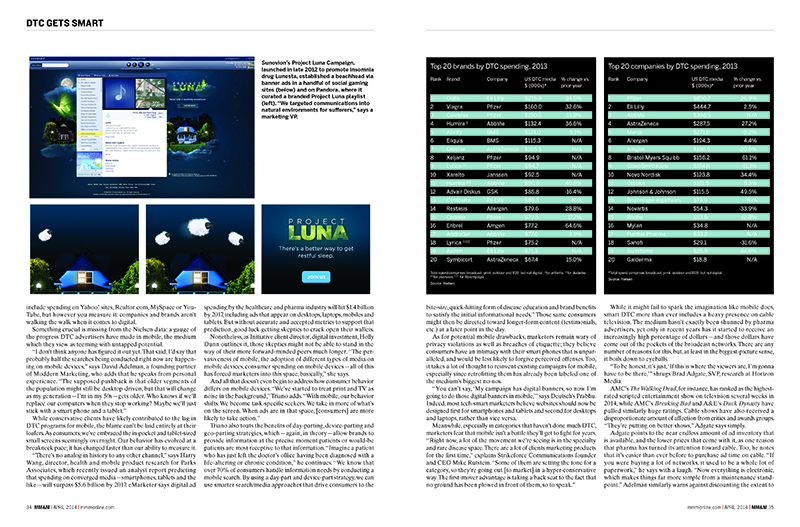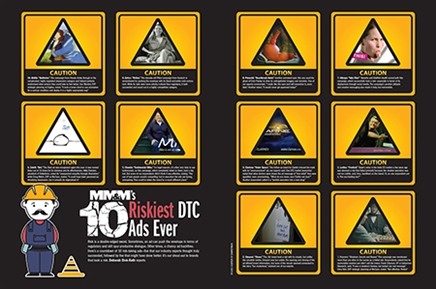 Read the report; share it instantly on Facebook, Twitter, GooglePlus and Linkedin; post your own comments; and view or download a PDF of the beautifully designed original layout from the print edition of MM&M. It's all FREE and it's right here.