"I've been around this industry for 15 years and I don't recall a moment like this"
Roberto Ascione
Global President
Razorfish Healthware

"Healthcare is on the cusp of harnessing the power of modern marketing"
Jessica Boden
President
StoneArch
"The days of the big, broad campaign that goes into hyperspace are over"
Nancy Beesley
Partner and Chief Marketing Officer
HCB Health
Agencies plugged
into new thinking
After a period of retrenchment and reinvention, agency business may, just may, be looking up—according to our annual agency benchmark survey of healthcare firms. And for many, the focus is firmly on a new age of personalized communications, sophisticated analytics and a patient-centric mindset
CLICK HERE for dedicated coverage of healthcare marketing and advertising agencies, including:
Individual, objective profiles of each of the top 100 agencies, charting highlights and challenges from the past year, along with plans for the road ahead. Each profile offers a unique snapshot of the personality of each agency and the vision of its leadership.
Exclusive data from MM&M's annual survey of agency leaders, including how the current year is shaping up and perceptions of the biggest agency challenges and industry trends.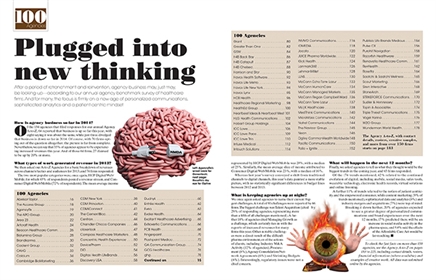 Read the report; share it instantly on Facebook, Twitter, GooglePlus and LinkedIn; post your own comments; and view or download a PDF of the beautifully designed original layout from the print edition of MM&M. It's all FREE and it's right here.