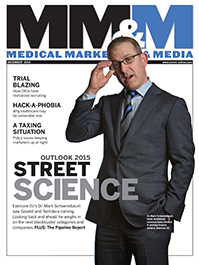 "There will be a laser focus on lipids and a debate about how big the PCSK9s could be. I've seen estimates from $2B to $20B."

Dr. Mark Schoenebaum
head, healthcare research
team, Evercore ISI
Industry Outlook 2015
+ The Pipeline Report
Marketers inside and outside the healthcare industry take a year-end glance at the upcoming year's policy agenda. PLUS: Top biotech & pharma analyst Mark Schoenebaum gives his company and category picks for 2015. And MM&M's annual Pipeline Report outlines 156 agents, taking a deep dive on 16 of them that are poised for approval
CLICK HERE for full coverage MM&M's Outlook 2015 from the December 2014 issue, including:
The Tax Man Cometh—what to expect in 2015, featuring interviews and expert commentary from:
Jeff Francer, VP, senior counsel, Pharmaceutical Research and Manufacturers of America

Matt Giegerich, chairman/CEO, Ogilvy CommonHealth Worldwide

John Kamp, executive director, Coalition for Healthcare Communication

Peter Kosmala, SVP, government relations, American Association of Advertising Agencies

Clark Rector, EVP-government affairs, American Advertising Federation
Street Science—a top industry analyst gives his assessment of the year ahead:
Dr. Mark Schoenebaum, head, healthcare research team, biotech & pharma/majors analyst, Evercore ISI
The Pipeline Report 2015:
156 agents in development

Spotlight on 16 products poised for approval

7 categories: Autoimmune, Cardiology, Infectious Disease, Neurology, Oncology, Respiratory and Orphan

Analysis provided by inThought, Adis R&D Insight, GfK HealthCare and other experts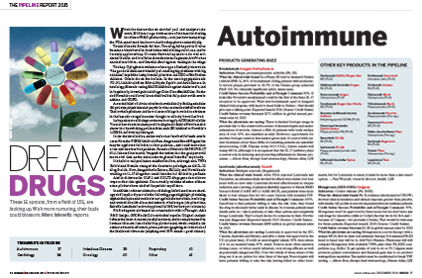 Read the report; share it instantly on Facebook, Twitter, Google+ and LinkedIn; post your own comments; and view or download a PDF of the beautifully designed original layout from the print edition of MM&M. It's all FREE and it's right here.