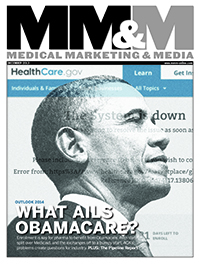 "We're a nation of
aging, hypertensive, obese diabetics, and
we're not dying...
Should we have that
conversation about
charging people for bad health?"
Peter Pitts
President and Co-Founder
Center for Medicine in the Public Interest
Industry Outlook 2014
+ The Pipeline Report
A panel of esteemed policy executives offer their perspectives about what to expect in 2014. PLUS: Top industry analysts, Tim Anderson and Mark Schoenebaum, share their picks for the year ahead in pharma and biotech. And MM&M's annual Pipeline Report explores 164 agents, showcasing 16 products that are poised for approval
CLICK HERE for full coverage of MM&M's Outlook 2014 coverage from the December 2013 issue, including:
Capitol Commotion—what to expect in 2014, featuring interviews and expert commentary from:
Les Funtleyder, Managing Director, Poliwogg
John Kamp, Executive Director, Coalition for Healthcare Communication
Wayne Pines, former FDA Chief of Consumer Education and Information, Chief of Press Relations, Associate Commissioner for Public Affairs
Peter Pitts, former FDA Associate Commissioner for External Relations; President and Co-Founder, Center for Medicine in the Public Interest
James G. Dickinson, Editor, Dickinson's FDA Webview
Bright Future—two top industry analysts paint a positive picture of the year ahead:
"Anderson's 360": Sanford Bernstein's Tim Anderson on big pharma
"Bio Benchmark": ISI Group's Mark Schoenebaum on biotech
The Pipeline Report 2014:
164 agents in development
Spotlight on 16 products poised for approval
7 categories: Cardiology, Infectious Disease, Metabolic, Neurology, Oncology, Autoimmune and Orphan
Analysis provided by inThought, Adis R&D Insight, GfK HealthCare and other experts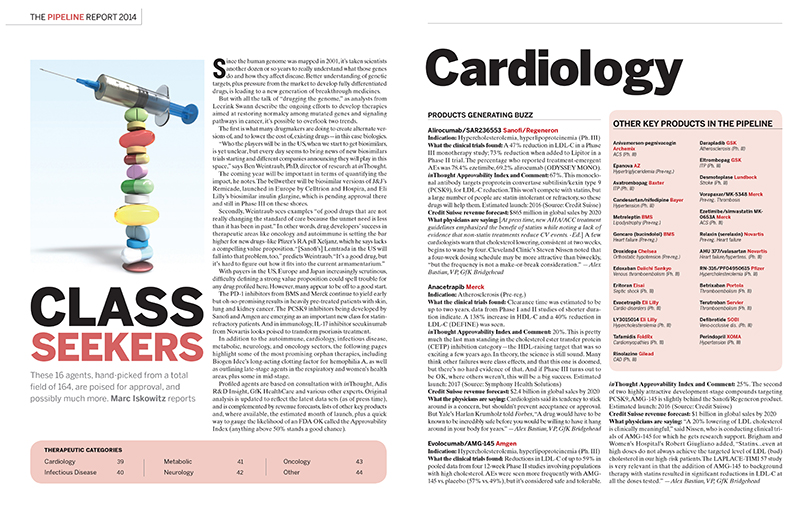 Read the content; share instantly on Facebook, Twitter, Google+ and Linkedin; post your own comments; and view or download a PDF of the beautifully designed original layouts from the print edition of MM&M. It's all FREE and it's right here.