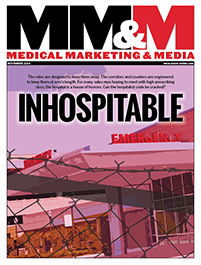 "These physicians didn't go into medicine to deal with all the side stuff. They want to care for patients."

Dan Dunlop, principal, Jennings
Inhospitable
Hospitals used to be much more welcoming to pharma sales reps than they are today. Larry Dobrow looks at how the rise of the hospitalist has changed the game plan for getting the word out about products.
CLICK HERE for full coverage of MM&M's report on engaging HCPs from the November 2014 issue, including:
Exclusive interviews and expert commentary from:
Michael Targowski, senior account manager, Wiley
Joe Schuldner, VP of integrated sales for Pharmaceutical Media
Mike Luby, founder, president and CEO of BioPharma Alliance
Gareth Davies, global marketing director at Ashfield Healthcare
Kristin Scott, director of business development, Society for Hospital Medicine
Dan Dulop, principal, Jennings
Pratap Khedkar, managing principal for pharmaceuticals and biotech, ZS Associates
Addie Blackburn, senior media planner, Sudler New York
Read the report; share it instantly on Facebook, Twitter, Google+ and LinkedIn; post your own comments; and view or download a PDF of the beautifully designed original layout from the print edition of MM&M. It's all FREE and it's right here.