"We have to clean up our act, as an industry, and bring something to the table. [Intouch] may not be a big pharma company with an R&D budget; we're not Google. But we're proud that, on our own dime, we might be able to come up with a big solution or two."

Faruk Capan
Founder and CEO
Intouch Solutions
Top 100 Agencies 2016
The agencies have spoken - and, as always, they have a lot to say, about everything from their maturing service offerings to their continued push into the rare-disease realm. MM&M's July issue takes the industry's deepest and most richly detailed look at the agency world, uncovering a host of opportunities and concerns.
CLICK HERE for all of MM&M's Agency 2016 content from its July issue, including:
An exclusive list of the Top 100 Healthcare Agencies, ranked by 2015 North American revenue
Meticulously researched and reported profiles of each of the Top 100 Healthcare Agencies
MM&M's Agency Solar System, a two-page graphic illustrating the interconnected relationships of communication conglomerates and their agency holdings
Analysis of agency-world trends gleaned from responses to MM&M's Agency A to Z survey
MM&M's Agency A to Z directory, showcasing information shared by more than 150 healthcare firms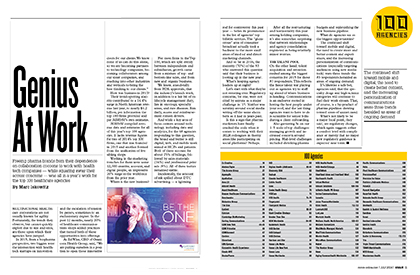 Read the report. Share it instantly on Facebook, Twitter, Google+ and LinkedIn. Post your own comments. It's all FREE and it's right here.