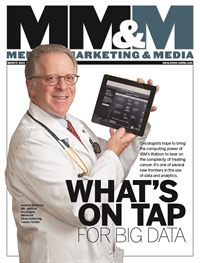 "Watson gets
smarter and
smarter. We've
been able to show
an increased level
of precision with
each batch of cases"
Andrew Seidman, MD
Medical Oncologist
Memorial Sloan Kettering
New Frontiers for Big Data: IBM Watson Oncology
IBM's Watson supercomputer may finally be ready to pass its biggest healthcare test yet: enabling oncologists to quickly tap its expertise in ascertaining how to treat cancer patients. Marc Iskowitz explores this and four other innovative uses of healthcare data and analytics
CLICK HERE for coverage of Data and Analytics from the March 2014 issue of MM&M, featuring exclusive interviews with:
Andrew Seidman, MD, Medical Oncologist, Memorial Sloan Kettering
Steven Gold, VP, Watson Group, IBM
Jennifer Rodriguez, Press Officer, FDA
Brent Rose, Director, US Marketing, Inflammation and Immunology, Celgene
Jim Curtis, Chief Revenue Officer, Remedy Health
Greg Jackson, Chief Data Officer, Everyday Health
Jennifer Graff, Director of CER, National Pharmaceutical Council
Robert Dubois, Chief Science Officer, National Pharmaceutical Council
Raj Amin, Executive Chairman, Co-Founder, Mana Health
Missy Krasner, former Head, Google Health
Neil Weisman, EVP, Blue Chip Marketing Worldwide
Jim Kremidas, SVP, Patient Recruitment and Retention, iCTRS
Ritesh Patel, Global Head, inVentiv Digital+Innovation
Jeff Meehan, Chief Commercial Officer, MD On-Line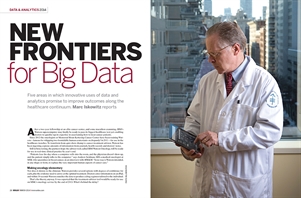 Read the report; share it instantly on Facebook, Twitter, GooglePlus and Linkedin; post your own comments; and view or download a PDF of the beautifully designed original layout from the print edition of MM&M. It's all FREE and it's right here.