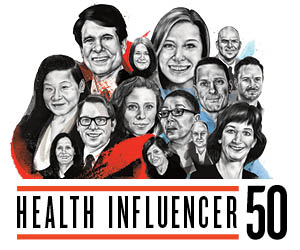 MM&M and PRWeek unveil the 2017 Health Influencer 50
MM&M and PRWeek have revealed the 2017 Health Influencer 50, a list honoring professionals across the health spectrum for their passion, determination, and innovative thinking that has helped guide the industry through two turbulent and exciting decades.
---
Advertise
For details on how to advertise in MM&M Breaking News, please email Doreen Gates.

Subscribe
If you were sent this by a colleague and wish to subscribe to the MM&M Breaking News, please click here.

You are subscribed as: %%EMAIL%%

Unsubscribe
To unsubscribe from the MM&M Breaking News click here.
To manage your email preferences please click here
To manage your entire MM&M profile login to your account.

To contact Haymarket Media for general questions or unsubscribe problems, please reply to this email.

All MM&M newsletters are sent from the domain "email.mmm-online.com". When configuring e-mail or spam
filter rules, please use this domain name.

Haymarket Media Inc
275 7th Avenue, 10th Floor
New York, NY 10001

© 2018 Haymarket Media Inc.