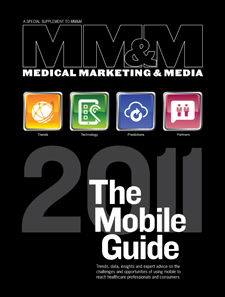 The Mobile Guide
Trends, data, insights and expert advice on the challenges and opportunities of using mobile to reach healthcare professionals and consumers

MM&M
offers the most relevant news, analysis, opinion, feature stories and special reports to nearly 15,000 marketing executives at pharma companies, agencies and in healthcare media.
Click here to subscribe
.
The
MM&M
News Brief provides news and features delivered direct to your inbox. To access the full text, simply click the headline.
Pfizer reported higher fourth-quarter sales, but the world's largest drug maker also revealed more downsizing and R&D cuts as it braces for the expiry of the Lipitor patent later this year.
Levitra.com led the pack among product websites that drove consumers to the doctors to request a prescription, according to a Manhattan Research survey.
The percentage of women surveyed that said they're buying prescription medications was way up in 2010 - to 64% from 48% in 2009 - a jump the survey's sponsors, Saatchi & Saatchi Wellness and Time Inc.'s Health, said points to a recessionary refocusing on personal health with great potential for healthcare marketers.
Pharma manufacturers expressed a clear interest in launching new mobile initiatives in the coming months -- if they haven't launched them already -- but nearly three-quarters of the companies surveyed said mobile budgets represent 5% or less of their total ad spending, a new survey found.

As online video consumption soars, healthcare marketing strategies must evolve to take advantage of increasing engagement and audience reach. Learn how to curate, manage and distribute multimedia content across channels in an increasingly diverse media environment.
Download the white paper now.
Pfizer named GSK's Dr. Yvonne Greenstreet SVP, head of medicines development for its Specialty Care Business Unit.
Mobile apps are the future of patient education and disease management, promising better tracking, improved adherence and richer patient-doctor dialogue, reports Matthew Arnold
The patent cliffs for the two biggest cardiovascular products are due to arrive this year and next, paving the way for generics. But don't count brands out in this category just yet
Lauren Folino and Tracy Peterson look back on the extraordinary lives of the three newest members of the Medical Advertising Hall of Fame
While healthcare reform presents issues and challenges for pharma, not to worry: reform also brings with it numerous opportunities to increase sales and market share
The MM&M Awards 2011 program is open for business. This is your chance to put your best work forward, showcase your talents and get the recognition you deserve
Novo Nordisk has built a dizzyingly successful business on insulin sales (34 quarters of double-digit growth and counting), but when the company got into the GLP-1 scrum with the approval, a year ago, of Victoza for type 2 diabetes, it was on terra incognita.

The 2010/11 PMD is the contact resource of choice. Over 17,000 business connections, 4,000 companies and 5,000 new industry names added since the last edition.
Get connected today and order your personal copy.