Last chance to attend. Register today.
The annual MM&M Awards presentation dinner will take place on Thursday, October30 at Tavern on the Green in New York City. Join the biggest and brighteststars in healthcare marketing for a spectacular evening filled with suspenseand celebration as we reveal our 2008 Awards winners for the first time. Clickhere to place your dinner reservation today.
Personal and Private: Can You Really Have It All?
Date: Wednesday, February 25, 2009

Time: 2 pm EST/11 am PST


Click here to register for free
Nancy Phelan, Executive Director, Consumer Communications & eMarketing Wyeth

Stu Klein, General Manager, Lowe Alchemy
Joe Meadows, Vice President, Marketing and Creative Services, Catalina Health Resource

2008/09 Pharmaceutical Marketers Directory

Save 10% off the cover rate ($295) with this special introductory offer.
Click here to order.
To find out about the MM&M Careers Section contact:
Scott Dattoli at 646-638-6015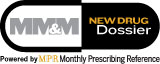 MM&M's New Drug Dossier combines promotional insights with clinical information to offer marketers the first complete online resource for newly approved drugs.
MM&M
offers the most relevant news, analysis, opinion, feature stories and special reports to nearly 15,000 marketing executives at pharma companies, agencies and in healthcare media.
Click here to subscribe
.
The
MM&M
News Brief provides news and features delivered direct to your inbox. To access the full text, simply click the headline.
A physicians' manifesto of sorts, composed by Sermo doctors demanding an end to intrusive insurers and overzealous regulators, has garnered 5,200 signatures in the several weeks since it was posted.
The chairman of the Senate Committee on Aging has written the Accreditation Council for Continuing Medical Education (ACCME) complaining that GlaxoSmithKline, which makes Valtrex, "sponsors CME events which promote testing all pregnant women for herpes."
Rob Rogers and Louisa Holland have been promoted to co-CEO of Sudler and Hennessey's operations in the Americas.
Reach Over 400,000 Doctors Daily

Custom Briefings partners with the top medical associations to provide their members comprehensive and succinct news customized to their members' medical specialty. With 21 leading medical associations comprised of over 400,000 top medical professionals, the Custom Briefings network provides an unparalleled advertising opportunity. Visit www.custombriefings.com or call (212) 916-7370 to learn more.
IBT Laboratories, a clinical-diagnostics and biomedical research laboratory, hired Maureen Loftus as president and CEO.