Last chance to attend. Register today.
The annual MM&M Awards presentation dinner will take place on Thursday, October30 at Tavern on the Green in New York City. Join the biggest and brighteststars in healthcare marketing for a spectacular evening filled with suspenseand celebration as we reveal our 2008 Awards winners for the first time. Clickhere to place your dinner reservation today.
Personal and Private: Can You Really Have It All?
Date: Wednesday, February 25, 2009

Time: 2 pm EST/11 am PST


Click here to register for free
Nancy Phelan, Executive Director, Consumer Communications & eMarketing Wyeth

Stu Klein, General Manager, Lowe Alchemy
Joe Meadows, Vice President, Marketing and Creative Services, Catalina Health Resource

2008/09 Pharmaceutical Marketers Directory

Save 10% off the cover rate ($295) with this special introductory offer.
Click here to order.
To find out about the MM&M Careers Section contact:
Scott Dattoli at 646-638-6015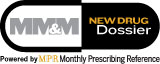 MM&M's New Drug Dossier combines promotional insights with clinical information to offer marketers the first complete online resource for newly approved drugs.
MM&M
offers the most relevant news, analysis, opinion, feature stories and special reports to nearly 15,000 marketing executives at pharma companies, agencies and in healthcare media.
Click here to subscribe
.
The
MM&M
News Brief provides news and features delivered direct to your inbox. To access the full text, simply click the headline.
Pfizer will no longer fund continuing medical education through med ed firms.
Verispan's biennial study, Pharmaceutical Company Image 2008, found that Eli Lilly ranked highest with psychiatrists.
Abbott received FDA approval for its Xience V drug-coated stent, used to treat coronary artery disease. The stent is used to prop open a narrowed or blocked artery and releases a drug, everolimus, to prevent further blockage.
Lisa Kowalski has joined Healthline Networks as senior director, strategic accounts for the West Coast. Kowalski was previously a senior global sales executive at Yahoo.