MM&M Weekly Digest is a weekly roundup of the week's big stories and notable developments in healthcare marketing, delivered every Friday.
The Senate Finance Committee is looking to crack down on unnecessary pain prescriptions and is using a money trail to do it.
Viagra and Cialis took top honors for most trusted pharmaceutical brands in a poll of physicians.
The general consensus surrounding the FDA advisory panel's 8-2 vote in favor of Pfizer's rheumatoid arthritis hopeful tofacitinib yesterday was that Abbott's Humira doesn't have to watch its back.
Physician social network Doximity announced Saturday that it is creating an app just for Stanford Medical School students and alumni. Co-founder Jeff Tangney said it's the first of several university groups.
The latest round of Sales Reps vs. Pharma has favored...the pharma industry. The Seventh Circuit Court of Appeals said that Eli Lilly did not owe former rep Susan Schaeffer-LaRose overtime.
As of Monday, nurses will be able to tap into the Nursing Drug Handbook with an app, a first for the 32-year-old publication.
Saatchi & Saatchi Innovations, Publicis' Pennsylvania-based outpost servicing specialty pharma, is rebranding as Saatchi Science.
A treatment Roche called a longshot has been left in the dust, throwing the fate of CETP inhibition into doubt once again.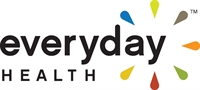 Attracting over 28 million monthly unique visitors (source: comScore), Everyday Health, Inc. is the largest provider of online health solutions. The company offers consumers, healthcare professionals and marketers with content and advertising-based services. Its broad portfolio of websites and mobile applications span the health spectrum, from in-depth medical content for condition prevention and management to healthy lifestyle offerings. Everyday Health offers the tools, community, and expert advice people need to live healthier lives, every day. Everyday Health was founded in 2002 by CEO, Ben Wolin, and President, Mike Keriakos