Last chance to attend. Register today.
The annual MM&M Awards presentation dinner will take place on Thursday, October30 at Tavern on the Green in New York City. Join the biggest and brighteststars in healthcare marketing for a spectacular evening filled with suspenseand celebration as we reveal our 2008 Awards winners for the first time. Clickhere to place your dinner reservation today.
Personal and Private: Can You Really Have It All?
Date: Wednesday, February 25, 2009

Time: 2 pm EST/11 am PST


Click here to register for free
Nancy Phelan, Executive Director, Consumer Communications & eMarketing Wyeth

Stu Klein, General Manager, Lowe Alchemy
Joe Meadows, Vice President, Marketing and Creative Services, Catalina Health Resource

2008/09 Pharmaceutical Marketers Directory

Save 10% off the cover rate ($295) with this special introductory offer.
Click here to order.
To find out about the MM&M Careers Section contact:
Scott Dattoli at 646-638-6015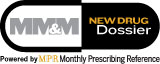 MM&M's New Drug Dossier combines promotional insights with clinical information to offer marketers the first complete online resource for newly approved drugs.
MM&M
offers the most relevant news, analysis, opinion, feature stories and special reports to nearly 15,000 marketing executives at pharma companies, agencies and in healthcare media.
Click here to subscribe
.
The
MM&M
News Brief provides news and features delivered direct to your inbox. To access the full text, simply click the headline.
Pfizer is teaming up with a firefighters' union for a smoking cessation campaign aimed at making the International Association of Fire Fighters "the first smoke-free union."
For the first time in 10 years, the number of people seeking healthcare information online has decreased - from 160 million in 2007, to 150 million in 2008 - according to the Harris Poll.
Grab a Six Pack. Enjoy the Return. Crack open Oneupweb's Digital Survival Guide Six Pack to discover the latest terms and trends in online marketing. Download the SEO, Paid Search, Eye Tracking, Social Media Marketing, Blogging and Online Usability Survival Guides, and learn how to calculate your return with Oneupweb's whitepaper, Predict The Return On Your Natural and Paid Search Campaigns.
Endo Pharmaceuticals named Dr. Sandeep Gupta SVP discovery and early development, reporting to EVP R&D Dr. Ivan Gergel.
Gilead Sciences has received FDA approval for the marketing of Viread (tenofovir disoproxil fumarate), for the treatment of chronic hepatitis B in adults.
Pfizer's recent decision to pull the plug on direct funding of CME through independent commercial providers follows months of public criticism of pharma support. Lew Miller and Warren Ross explore how the rest of the industry is coping with the assault
There hasn't been much good news for providers in the past year, according to MM&M's annual Medical Education Survey, with regulatory issues squeezing budgets hard. James Chase reports
Some of the best-known media directors in medical marketing assembled at the offices of MM&M to discuss the media issues of the day—and to offer a few words of advice to their pharmaceutical industry clients. James Chase took the moderator's chair
Social networks and an expanded digital landscape have opened up more avenues for pharmaceutical and healthcare marketers to reach their patient and physician customers. Deborah Dick-Rath looks at how and where to spend your budget
Craig Millian left Pfizer, where he was the US commercial lead for Lipitor, for Vertex Pharmaceuticals in January 2006.