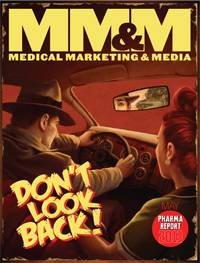 "We have to do
a better job when bringing new products to market. The burden will fall on us to demonstrate value"
Robert Bazemore,
President,
Janssen Biotech
Don't Look Back!
The 2013
Pharma Report
Pharma just sped through an unprecedented period of patient expiries, during which some $30 billion in brand revenues went over the cliff. But stay on the road; another patent peak, equally scary, lies ahead.
CLICK HERE for full coverage of MM&M's Pharma Report from the May 2013 issue, including:
Exclusive interviews and expert commentary from:
Robert Bazemore, President, Janssen Biotech
Michael Kleinrock, Director, Research Development, IMS Institute
Jeffrey Russell, North American MD, Life Sciences, Accenture
Individual snapshot reports of the Top 20 pharma companies, including:
Synopsis of activity
Revenue
R&D spend
Top brands
Planned launches
Promotional spend
Patent expirations
Brand new data from IMS Health, only released today!:
Top Pharma Companies by Revenue, 2012
Top Rx Drugs by Sales, 2012
Top Therapeutic Classes by Sales, 2012
Plus additional data:
Top 20 companies' media spend, broken out by DTC, journal ads, detailing, e-detailing and meetings (Cegedim Strategic Data)
US patent expirations through 2017 (Barclays Research)
New drug approvals 2012 (FDA/CDER)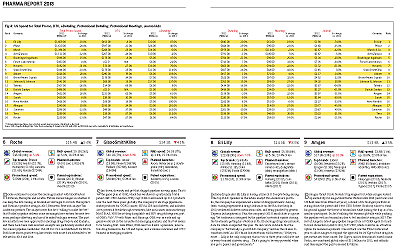 Read the articles; share them instantly on Facebook, Twitter, Google+ and Linkedin; post your own comments; and view or download a PDF of the beautifully designed original layout from the print edition of MM&M. It's all FREE and it's right here.