Last chance to attend. Register today.
The annual MM&M Awards presentation dinner will take place on Thursday, October30 at Tavern on the Green in New York City. Join the biggest and brighteststars in healthcare marketing for a spectacular evening filled with suspenseand celebration as we reveal our 2008 Awards winners for the first time. Clickhere to place your dinner reservation today.
Personal and Private: Can You Really Have It All?
Date: Wednesday, February 25, 2009

Time: 2 pm EST/11 am PST


Click here to register for free
Nancy Phelan, Executive Director, Consumer Communications & eMarketing Wyeth

Stu Klein, General Manager, Lowe Alchemy
Joe Meadows, Vice President, Marketing and Creative Services, Catalina Health Resource

2008/09 Pharmaceutical Marketers Directory

Save 10% off the cover rate ($295) with this special introductory offer.
Click here to order.
To find out about the MM&M Careers Section contact:
Scott Dattoli at 646-638-6015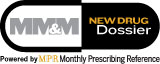 MM&M's New Drug Dossier combines promotional insights with clinical information to offer marketers the first complete online resource for newly approved drugs.
MM&M
offers the most relevant news, analysis, opinion, feature stories and special reports to nearly 15,000 marketing executives at pharma companies, agencies and in healthcare media.
Click here to subscribe
.
The
MM&M
News Brief provides news and features delivered direct to your inbox. To access the full text, simply click the headline.
What impact will the presidential election have on advertising regulation? That's the question that Richard Cooper posed to attendees at the Food and Drug Law Institute's 20th annual Advertising & Promotion Conference in Washington, DC.
Total commercial support of accredited CME scarcely budged in 2007, rising 1% to $1.2 billion, while the share of commercial support going to publishing and education companies declined 4.2% to $594 million, according to the ACCME's annual report.
Chris Viehbacher, GlaxoSmithKline's executive director and president, North American pharmaceuticals, will leave the company.
A new study shows that free drug samples could be costing uninsured patients more money.
Grab a Six Pack. Enjoy the Return. Crack open Oneupweb's Digital Survival Guide Six Pack to discover the latest terms and trends in online marketing. Download the SEO, Paid Search, Eye Tracking, Social Media Marketing, Blogging and Online Usability Survival Guides, and learn how to calculate your return with Oneupweb's whitepaper, Predict The Return On Your Natural and Paid Search Campaigns.
Eisai has announced several promotions and hires.
Pfizer has announced it will globally withdraw all dalbavancin marketing applications for the treatment of complicated skin and skin structure infections in adults, including the US new drug application and the European marketing authorization application.
The brutal economic landscape is taking its toll on industry paychecks--for the first time in years, MM&M's exclusive research shows a decrease in average salary. Ben Comer looks at the data on pay, job satisfaction and migration
While some organizations find the talent shortage to be a struggle, several firms have managed to attract and retain staff by creating a culture and environment where people can thrive.
The road to a successful career in healthcare marketing can be a long and winding one, and is often fraught with questionable positions such as toilet cleaner, news anchor and Tom Cruise's PA. James Chase looks at the journeys of seven executives who made it
We've all heard horror stories about ugly mergers stifling innovation and crushing employee morale, but Takeda's hands-off melding with Millennium and AstraZeneca's absorption of MedImmune show that it doesn't have to be that way
The results are in from our panel of industry experts—the shortlist for each of the 24 categories appear on the following pages. The winners will be revealed for the first time at the presentation dinner on October 30
Angus Russell took over as CEO of Shire in June after serving nine years as CFO and EVP of global finance.