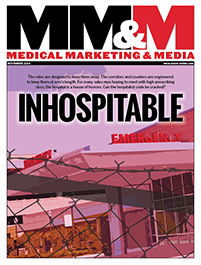 "When the business changes, you have to realign your approach. Getting comfortable
with change has been
very helpful in my career."

John Fish
Global Director,
Digital Customer Experience
AstraZeneca

The Career
Issue 2014
Salaries are down, the industry gender gap persists and people have their eyes peeled for better gigs. But job satisfaction remains positive and, compared with other businesses, the pay still isn't half bad, finds James Chase.
CLICK HERE for full coverage of MM&M's Career Issue 2014, including:
The 28th Career & Salary Survey—In Check
Including new data on:
Average industry salary, 2009-2014

Average salary by type of employer

Average salary by gender

Average salary by market sector

Average salary by company size

Complete data sets for 20 job titles
Workplace Culture—The New Breed
How healthcare agencies are changing the rules for recruitment and are now coveting certain kinds of hybrid employees:
The Data/Analytics Demystifier

The Chief Behavioral Officer

The UX Guru

The Content Overlord

The Project Maestro
Career Paths—The Climb
How eight industry execs rose through the ranks:
Oved Amitay, VP, Head of Commercial, Alnylam Pharmaceuticals

Amy Chafin, Director, US Brand/Marketing, Lilly Oncology

Sean Clark, Head, US Marketing, Alcon Surgical Division

Deborah Dunsire, President and CEO, Forum Pharmaceuticals

John Fish, Global Director, Digital Customer Experience, AstraZeneca

Robert Greif, VP, Commercial Operations, Revo Biologics

Janie Rodriguez, Senior Manager Toviaz Marketing—Global Innovative Pharma, Pfizer

Brianne Weingarten, Executive Director Alliance Management and R&D Project Leader, Purdue Pharma
Read the report; share it instantly on Facebook, Twitter, GooglePlus and LinkedIn; post your own comments; and view or download a PDF of the beautifully designed original layout from the print edition of MM&M. It's all FREE and it's right here.