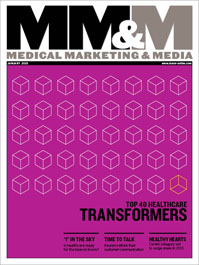 "People say, 'Good luck getting anybody in pharma to change,' but the industry is ready to move forward"

Dennis Urbaniak, Managing director, Accenture Life Sciences
Transformers dare
to disrupt
Change within a set-in-its ways industry can be scary—that is, unless you've got the will and bravado to tackle it head-on. Our Top 40 Healthcare Transformers are bringing shifts to several areas of the value chain, bypassing established players and upending some previously stand-pat sectors. Larry Dobrow, Deborah Weinstein, Sarah Mahoney and Marc Iskowitz report
CLICK HERE for full coverage MM&M's Top 40 Healthcare Transformers from the January 2015 issue, including:
14 pages spotlighting 40 people from the worlds of health tech, biopharma, medical devices, venture capital and other areas who are shaping the transformation of the industry

Individual profiles explain how each is challenging or disrupting the healthcare business by harnessing various technologies from consumer genetics to predictive analytics, and from bots to wearables and beyond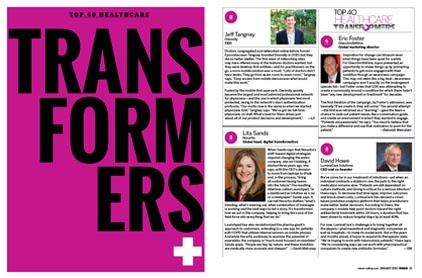 Read the report; share it instantly on Facebook, Twitter, Google+ and LinkedIn; post your own comments; and view or download a PDF of the beautifully designed original layout from the print edition of MM&M. It's all FREE and it's right here.