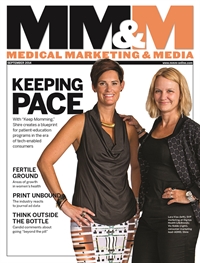 "Patients are
inundated with
information. You
can understand
why there might be
some frustration."

Stephanie Tsolakis
senior director, brand marketing
Teva Pharmaceuticals

Keeping Pace
with Patients
As patient expectations continue to rise, pharma marketers are having to boost their efforts to keep up in the quest to make meaningful contact with tech-empowered audiences. But a few savvy companies seem to have cracked the communication code, moving to the forefront of this movement. Larry Dobrow reports
CLICK HERE for full coverage of MM&M's Patient Education/Marketing Report from the September 2014 issue, including:
Exclusive interviews and expert commentary from:
Lara Viau, SVP marketing, Digitas Health LifeBrands

Vic Noble, consumer marketing lead-ADHD, Shire

Shannon Hartley, managing partner, healthcare, Rosetta

Stephanie Tsolakis, senior manager, brand marketing, Teva Pharmaceuticals

Deb Deaver, president, CDMiConnect

Steve Pashkoff, creative group head, Merkley + Partners

Venu Vittaladevuni, group product manager, Genentech

Erich Hartmann, creative group head, Merkley + Partners

Pauline Coderre, strategy consultant, health education development for US medical, Eli Lilly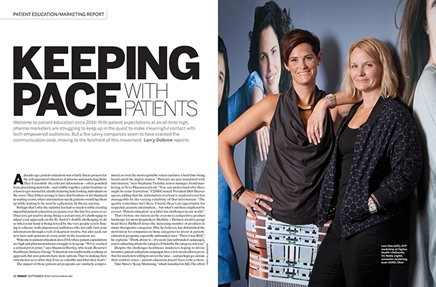 Read the report; share it instantly on Facebook, Twitter, GooglePlus and LinkedIn; post your own comments; and view or download a PDF of the beautifully designed original layout from the print edition of MM&M. It's all FREE and it's right here.