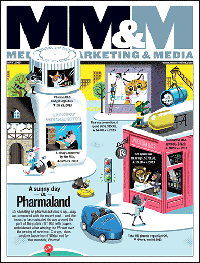 "Five years ago, what pharma was hearing was, 'Develop breakthrough meds. We're not going to pay for [less effective] ones.' For all the rhetoric on prices, pharma is delivering."

Rick Edmunds
Senior Partner
Strategy&

Pharma Report:
A Sunny Day in Pharmaland
Fueled by breakthrough drugs that actually broke through, spending on pharma products surged an incredible 13.1% in 2014, a figure that stunned even the sunniest of optimists. But with some of the contributing factors looking like one-time-only events, pundits wonder if perhaps the gains have been overstated—and don't get them started on the threat posed by payers pushing back against drug prices. Larry Dobrow reports
CLICK HERE for full coverage of MM&M's Pharma Report from the May 2015 issue, including:
Exclusive interviews and expert commentary from:
Michael Kleinrock, Director, Research Development, IMS Institute
Les Funtleyder, Healthcare Portfolio Manager, E Squared Asset Management
Marc de Garidel, Chairman and CEO, Ipsen
Rick Edmunds, Senior Partner, Strategy&
Adam Scott Roberts, SVP, Media, CMI/Compas
Individual snapshot reports of the Top 20 pharma companies, including:
Synopsis of activity
Revenue
R&D spend
Top brands
Planned launches
Promotional spend
Patent expirations
Brand new data from IMS Health:
Top Pharma Companies by Revenue, 2014
Top Rx Drugs by Sales, 2014
Top Therapeutic Classes by Sales, 2014
Plus additional data:
Top 20 companies' media spend for 2014, broken out by DTC, journal ads, detailing, e-detailing and meetings (IMS Health, Strategic Data—Promotion Audits)
US patent expirations through 2019 (Barclays Research)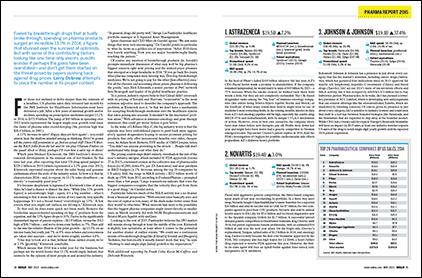 Read the report. Share it instantly on Facebook, Twitter, Google+ and LinkedIn. Post your own comments. View or download a PDF of the beautifully designed original layout from the print edition of MM&M. It's all FREE and it's right here.