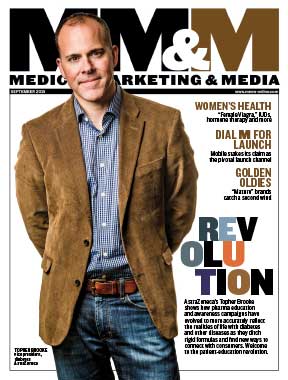 "For pharma, it's no longer just about therapeutics. It's about the intersection of a therapy and the patient support around it."

Topher Brooke
VP, Diabetes
AstraZeneca
Revolution
Patient education used to be a cookie-cutter operation: Hire a spokesperson, plan an event and draft a static list of symptoms, then call it a day. But in the wake of groundbreaking campaigns from AstraZeneca and Novartis, the industry may well have to raise its content-creation game—and cede considerable control to super-informed patients in the process. Larry Dobrow reports on the two programs that have raised the patient-ed stakes
CLICK HERE for full coverage of MM&M's Patient Education/Marketing Report from the September 2015 issue, including:
Exclusive interviews and expert commentary from:
Topher Brooke, VP, diabetes, AstraZeneca
Marci Hanlon, consumer portfolio director, AstraZeneca
Stacey Bernstein, SVP, director of US digital health, Weber Shandwick
Bob Finkel, CEO, FreshBlood
Tony Romito, managing director, Accenture's Life Sciences group


Read the report. Share it instantly on Facebook, Twitter, Google+ and LinkedIn. Post your own comments. View or download a PDF of the beautifully designed original layout from the print edition of MM&M. It's all FREE and it's right here.