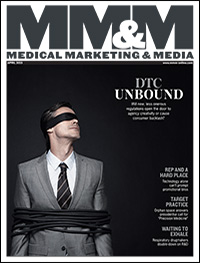 "The brief summaries have always been crafted for someone who had a Ph.D.—as opposed to someone who has a GED, which is the population for many of these products."

Mike Rutstein
CEO Strikeforce Communications
The DTC Report:
DTC Unbound
DTC pharma advertising works—ask anyone. But over the years, its effectiveness has been blunted by FDA requirements that, marketers claim, befog rather than clarify. Will the FDA's new guidance for communicating risk information in print ads open the door to agency creativity or cause consumer backlash? Larry Dobrow reports
CLICK HERE for full coverage of MM&M's overview on DTC from the April 2015 issue, including:
Exclusive interviews and expert commentary from:
Ken Begasse, CEO, Concentric
Mary Brown, SVP, managing director for wellness marketing, Ogilvy CommonHealth
Bill Drummy, CEO, Heartbeat Ideas
David Kopp, EVP and general manager, media, Healthline
Andy McAfee, creative director, AbelsonTaylor
Mike Rutstein, CEO, Strikeforce Communications
The latest DTC data from Nielsen, including
Total DTC Spend, 2010-2014
Top 20 Companies by DTC Spend, 2014
Top 20 Brands by DTC Spend, 2014
DTC Spend by Media Channel, 2014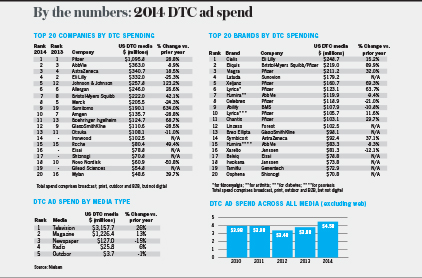 Plus a special feature on the Ten Best DTC Ads of 2014!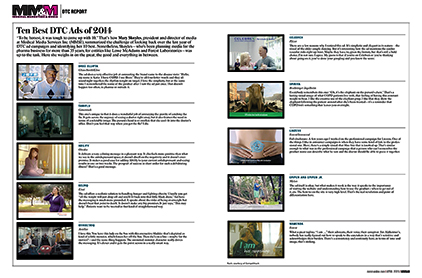 Read the report. Share it instantly on Facebook, Twitter, Google+ and LinkedIn. Post your own comments. View or download a PDF of the beautifully designed original layout from the print edition of MM&M. It's all FREE and it's right here.